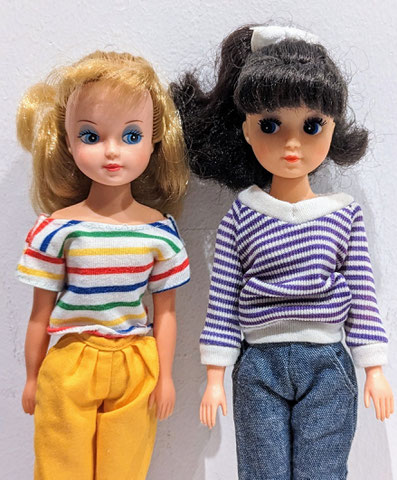 In 1987 Otto Simon, the toymaker who produced Fleur dolls,  outsourced the toy department to England for unknown reasons. The result was a complete make over of the Fleur doll, the so called New Look Fleur came to life. Not only her appearance changed drastically, also the signature color of her boxes, the Fleur green, was changed to a purple-red color palette and also the Fleur logo got a make over. The Look Around Fleur was the last doll sold in the light green box, although she already had the new look.
Not much is known about this very short period of Fleur as there were not many adverts for the new look Fleurs released and shortly after the production of Fleur dolls was stopped.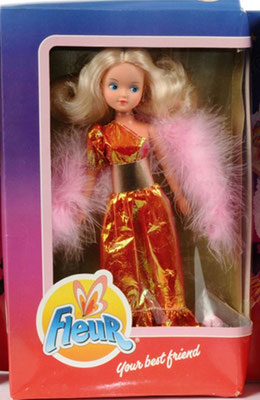 Till date we knew of five New Look Fleur dolls, that were released: Look Around Fleur, Sporttime Fleur, Hollywood Fleur, Disco Dance Fleur and Video Star Fleur. 
In the promo pictures, the very few that we have, all these dolls have platinum white short hair, like the Look Around Fleur. In reality these dolls were also made with longer hair in blonde and ginger, with a centerpart or fringe and ponytail.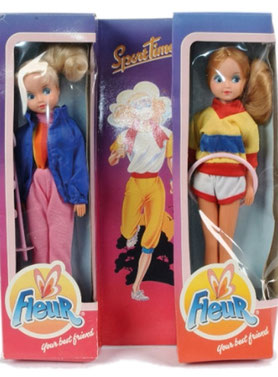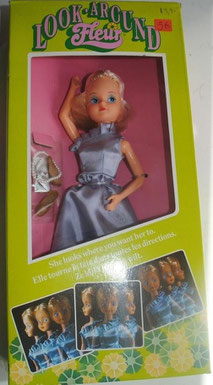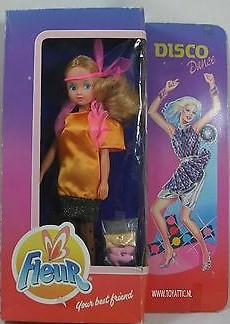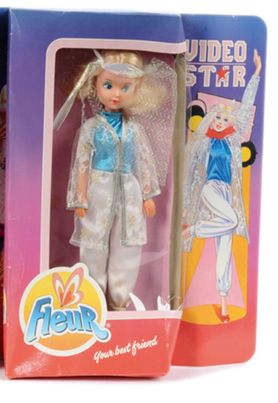 That's what we knew till date..so far so good....
Now take a deep breath!
And here are the sensational news!!!
Are you ready???
There is a sixth New Look Fleur that didn't appear in any advert and that I (and probably most) have never seen before!!!!
Her name: Cover Girl Fleur!
My lovely friend and Fleur collector Angela Mombers of @vintage_fleur_doll has made this amazing discovery!!! She found one of these dolls brandnew in box and is now her very proud owner. With her permission I can show this super rare little doll to you all! (All following photos are provided by Angela)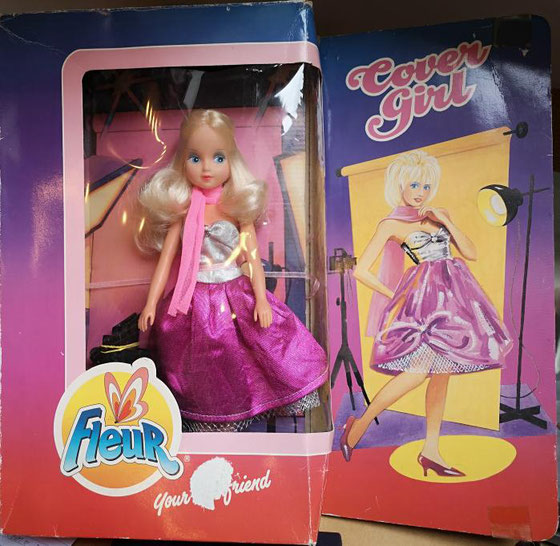 She is in a New Look purple and red box with the New Fleur Logo at the front. On the side there is a paperboard flap that shows an illustration of a typical 80s blonde girl with short hair and the name of the doll is written above it: Cover Girl.
The doll wears a shiny silver and pink dress with a mash underdress and a pink tulle scarf. The back of her box show a photo of the doll with a text which extras are inluded and promo pictures of fashions, that were available separately for the New Look Fleur dolls: Video Star, Sport Time, Disco Dance and Hollywood.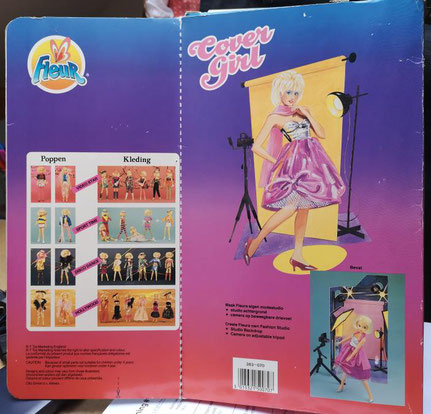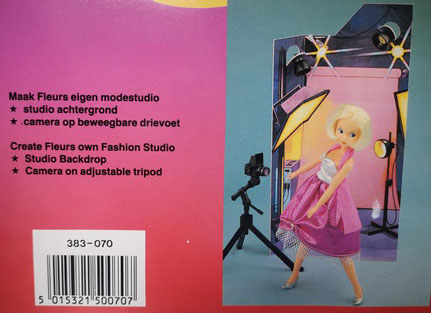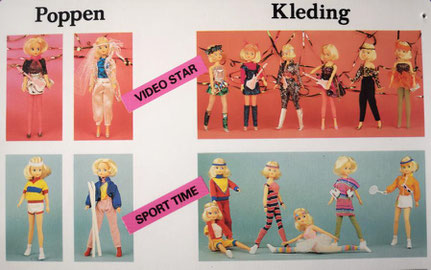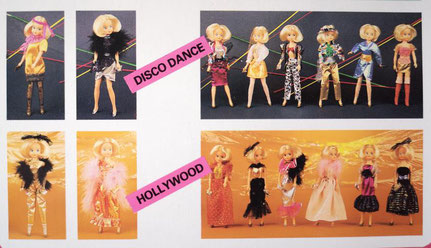 The doll is a New Look Fleur with side glancing eyes to the left. She has long platinum blonde hair  with a center part. She is on a body with straight, non bending arms and bendings knees. It is the same body that also Sport Time Fleur has and probably all the other new Look Fleur dolls (except Look Around, which has a special body with a mechanism). On her feet she wears silver peep toe heels.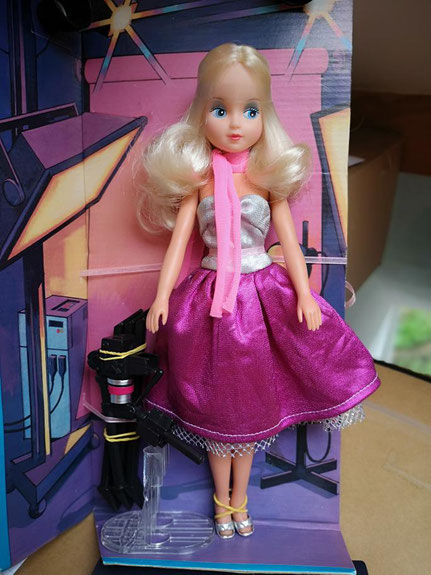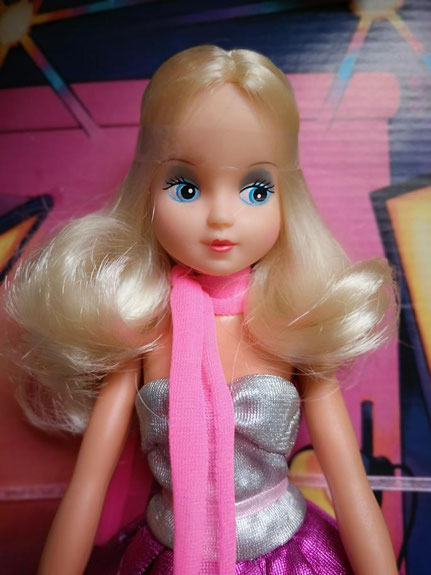 The inside cardboard of the box show a studio backdrop, so Fleur, who is obviously a model, can make a professional photo shoot. There is also a tripod camera and two plastic lights included, that can be pushed into the holes in the backdrop. Also added is a clear dollstand. 
As this is the first Cover Girl Fleur that we have ever seen, we don't know if there were any additional outfits for her released. 
And we are very curious, if there may be even more New Look Fleur dolls out there, that we haven't seen before! What do you think? Tell me in the comments!!!