In 1985 (or maybe even late 1984) Otto Simon released a rather simple doll that was cheaper than the regular dolls and that came with a brand new facemold and body: Bermuda Fleur! 
This doll must have been very popular, because the dolls and the outfits are still fairly easy to find.
Bermuda Fleur was my one and only Fleurdoll I had as a child and she is still one of my favorites!
First edition Bermuda Fleur
The first edition of Bermuda Fleur may have been released in early 1985 in a dark green box.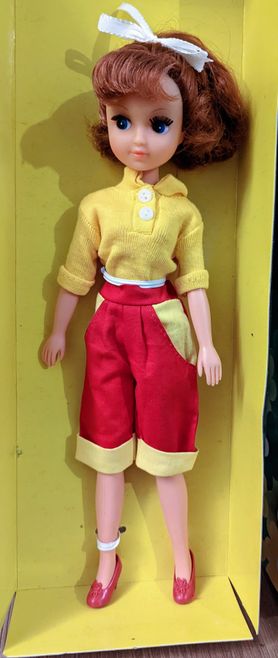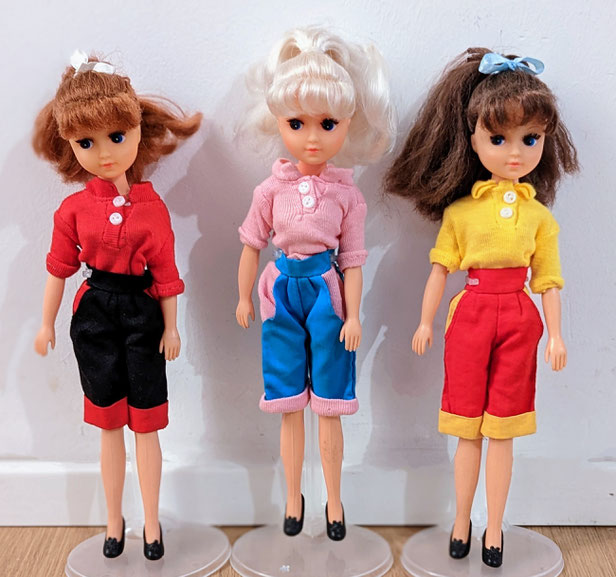 Hair colors
She was available with three haircolors, middle brown, platinum blonde and titian.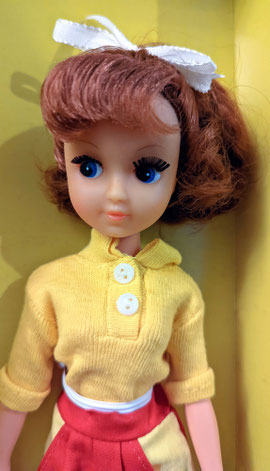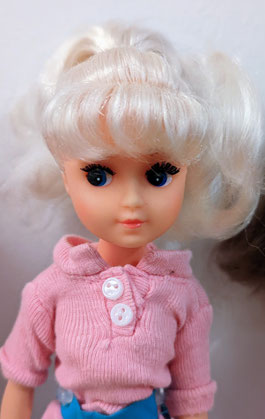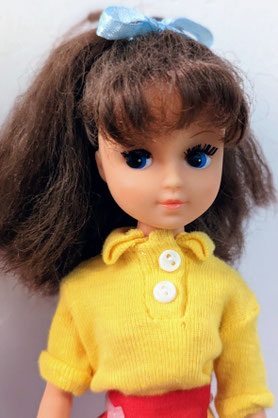 The outffits
Her simple but cute outfit consisted of of a blouse with short sleeves and a Bermuda pants. There were three color variants of this outfit made: yellow blouse with red pants, red blouse with black pants and pink blouse with turquoise pants.
The shoes were pumps made of soft rubber with a big flower at the front. These shoes can be often found in black, as many Logo Fleur dolls released later were wearing black pumps. However the NRFB Bermuda Fleur owned by my Fleur friend Magda is wearing these Pumps in red. I don't know, if the other two colour variants had color matching pumps as well.
As far as I have seen, the haircolor- and outfitcolor combinations were totally random and each haircolor could be found with each outfit... so many variants to collect!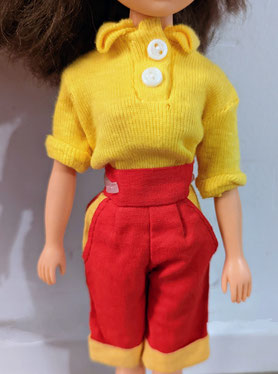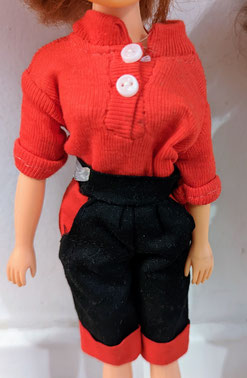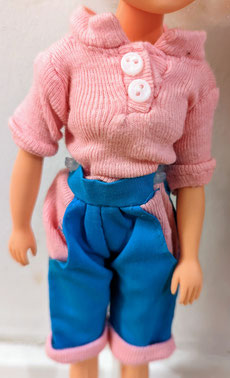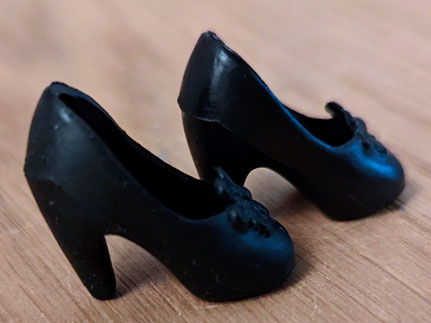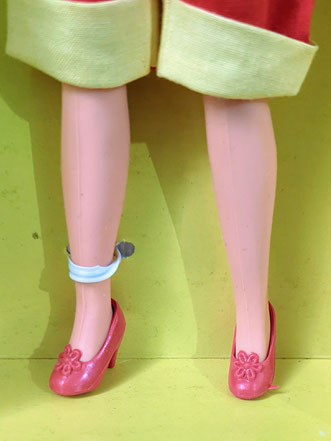 The doll
 Her head was made of a soft vinyl that tends to pale into an orange color. She has a new facemold, the Logo Fleur facemold called like this, because she has a raised Fleur logo at the back of her head (click here to see all Fleur facemolds from the 80s).
She has small eyes with long lashes, these lashes could be also dramatically long and full. Her lips are small and in a pink peach color.
Her body is the Logo Fleur body (See here an overview of Fleur bodies). Her waist can twist and her legs can sidesplit. Unlike any other Logo Fleur (as far as I know) her arms are made of hart plastic. The plastic of the body is darker than other 80s Fleur bodies probably to better match the head.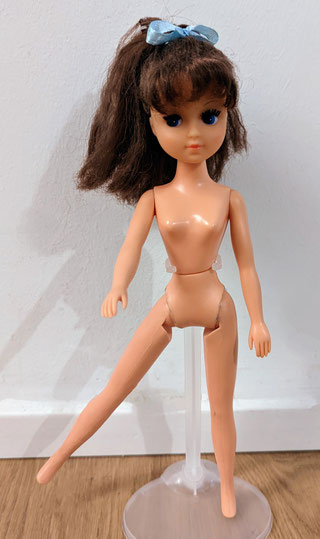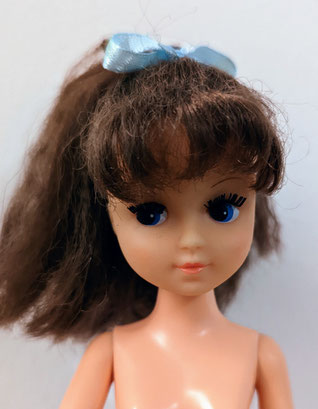 She has a full head of long hair that is styled into a curly ponytail.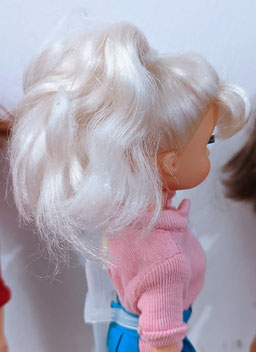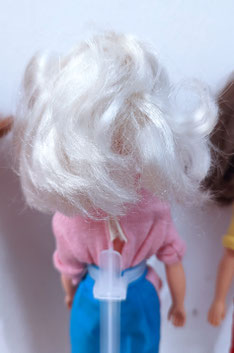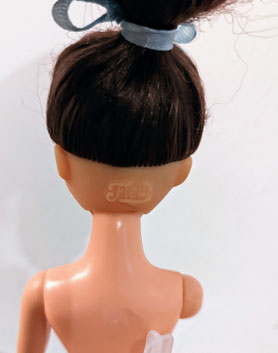 Second edition Bermuda Fleur
The second edition of Bermuda Fleur was released probably in late 1985 or early 86 in a dark green box, that however looked different than the first edition (see the differences  below).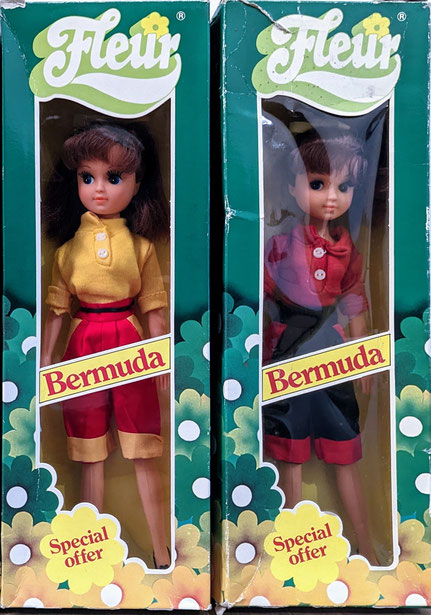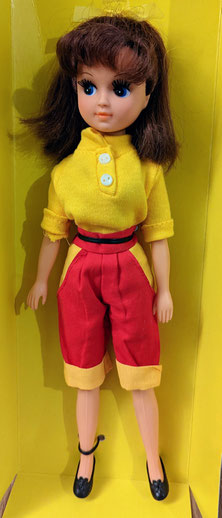 Haircolors
She was only available with two haircolors as far as I have seen: golden blonde and chestnut brown.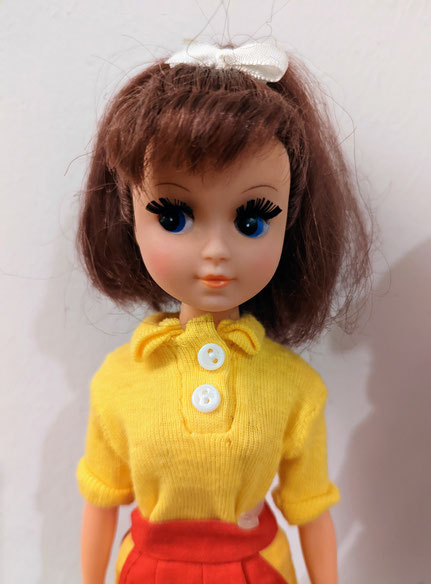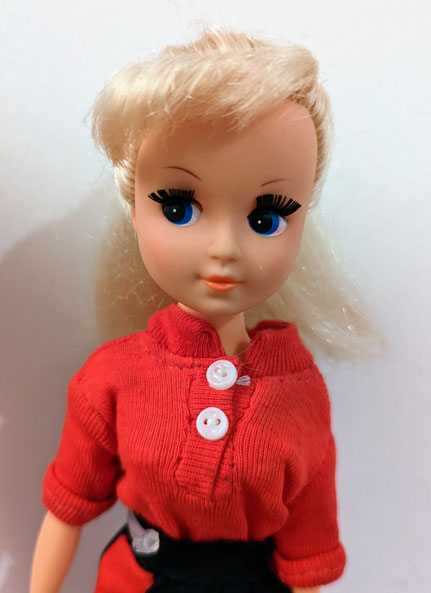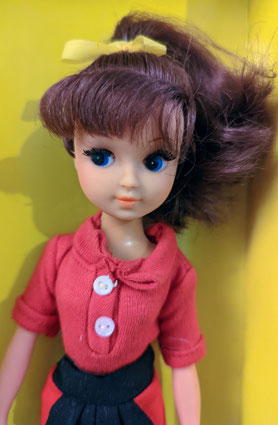 The outffit
Her outfit was the exact same as the one worn by the first edition. However I have only seen two color variants on NRFB dolls: the yellow blouse with red pants and the red blouse with black pants combinatioon. The shoes however were always the black pumps with big flower. I have not seen this doll boxed in the pink -turquoise outfit yet, but that doesn't mean she doesn't exist. If you own one, please let me know!
The outfitcolor-haircolor combination was also random, like the first edition, so each haircolor could be bought with any outfit.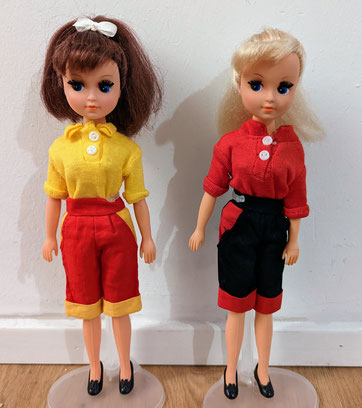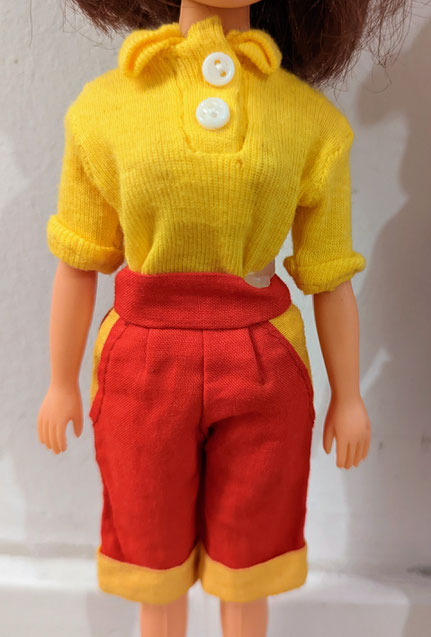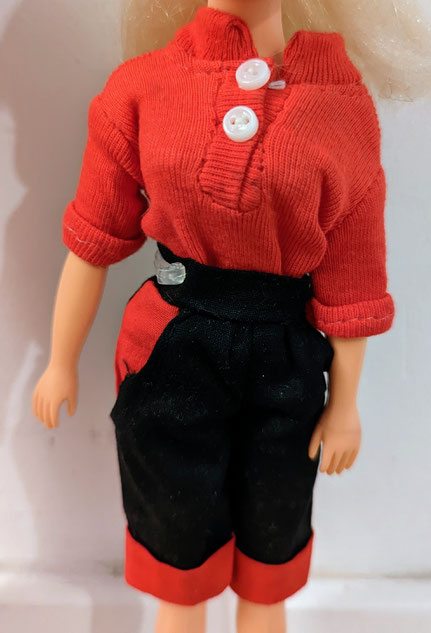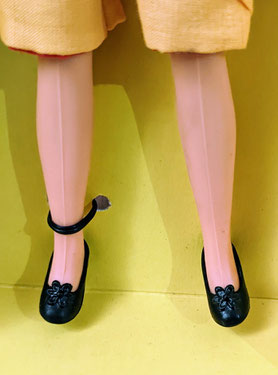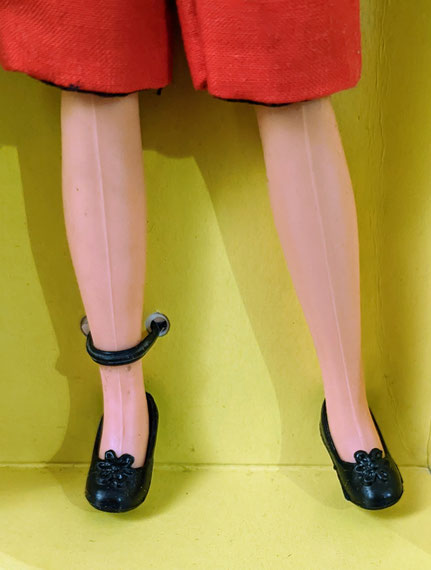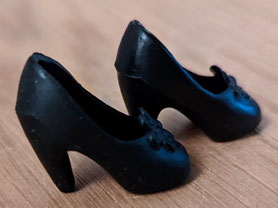 The doll
She had also the Logo Fleur headmold like the first edition, however it was made of a different vinyl than the first edition. It was harder and colored more naturally. Her eyes are significantly bigger with long lashes. Her lips were painted bigger in an orange colour that can fade into yellow.
She has also the Logo Fleur body with legs that can side split and a twisting waist. Her arms however are made of soft rubber.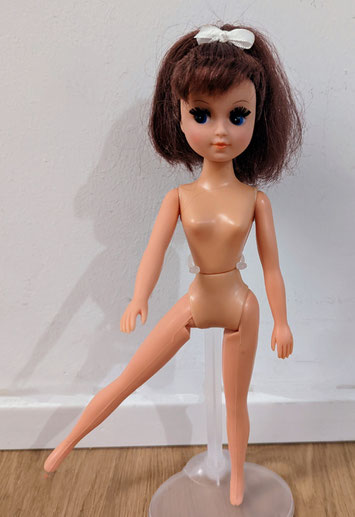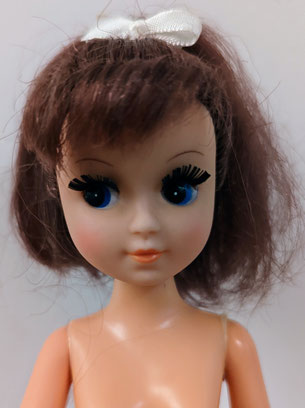 Her hair was rooted more sparely than the first edition only circular with two additional rows of plugs at the upper part of her head. It was styled into a straight ponytail with a fringe.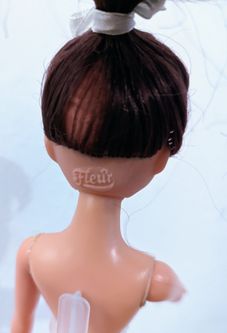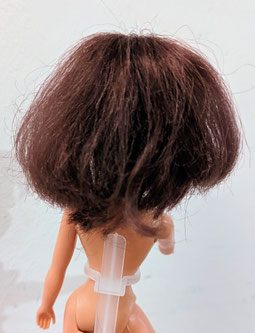 The differences
The first edition Bermuda Fleur's box had much smaller flowers at the front of the box than the second edition, the letters of the doll's name "Bermuda" were green on the first edition and red on the second edition. The flower symbol with "Special Offer" written on it was red with yellow letters on the first edition box and yellow with red letters on the second edition box. The size of the boxes is exactly the same. The back of the boxes shows different photos, while the first edition shows a Riding Fleur on a horse as the third picture, the second edition shows a Shopping Fleur with a baby .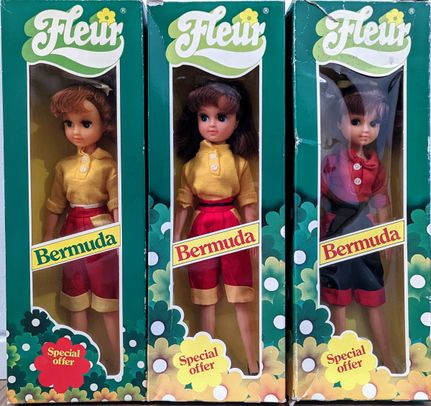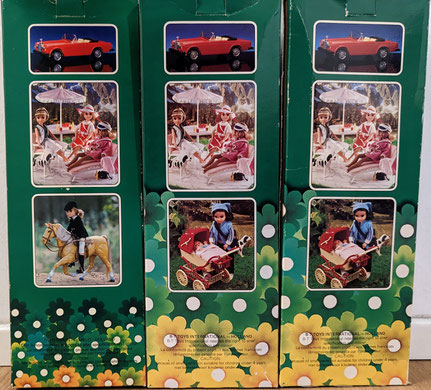 At the back of the box of the first edition is written: "Otto Simon-Almelo-Holland" on the second edition is written: "BT-Toys International - Holland".
As far as I could find out, the toy section of the factorie's name was changed in the mid 80s, it could have happened in 1985 or 1986. All dolls released in the light green boxes are marked with BT-Toys International.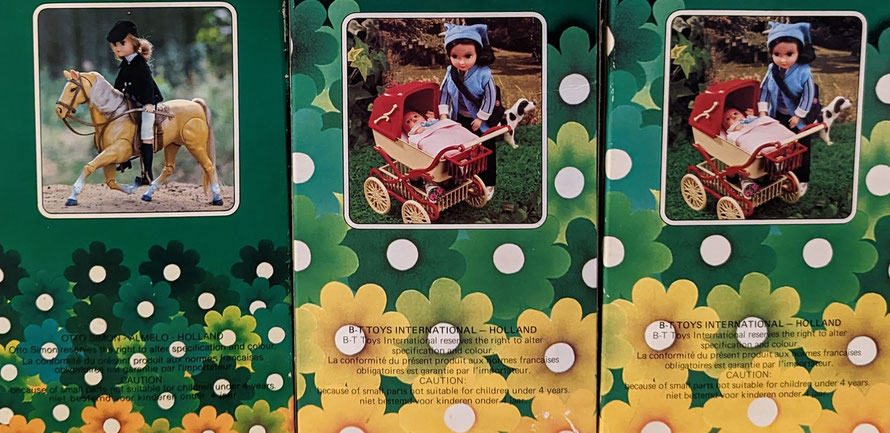 The twist ties, that attach the dolls to the box, are white of the first edition Bermuda Fleur (like nearly all 80s Fleur dolls have) and black of the second edition Bermuda Fleur doll.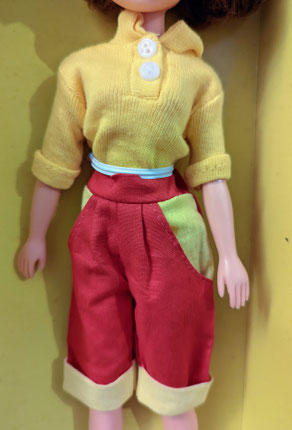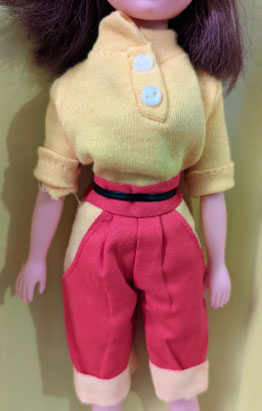 Body comparison of the first and second edition, the first edition has hart plastic arms that look more shiny, the second edition has soft rubber arms.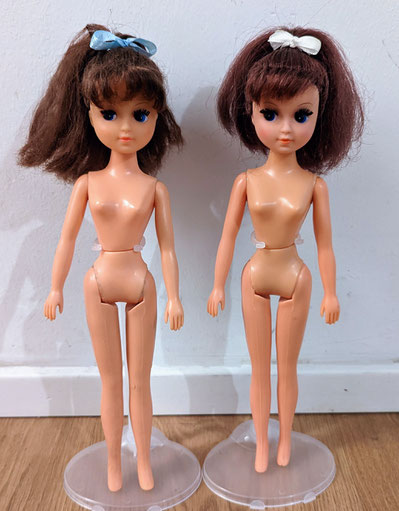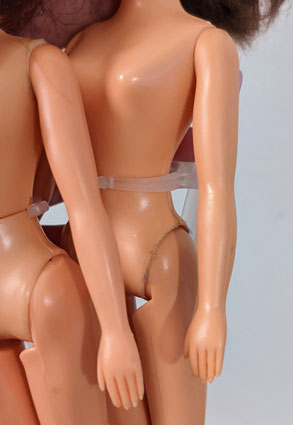 Haircolor and hairstyle comparison between the two editions.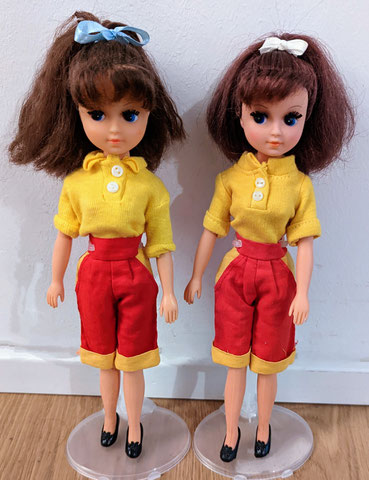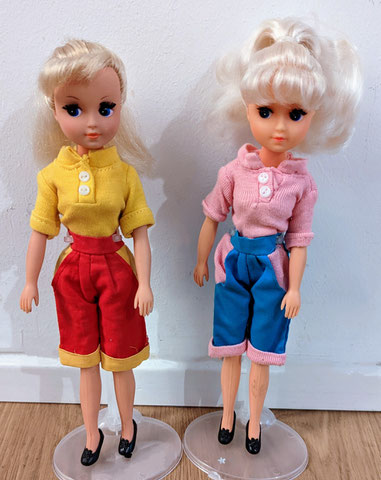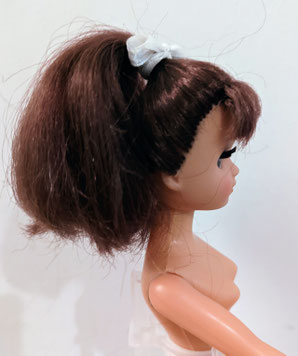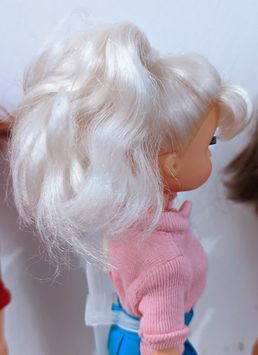 Similar dolls
Dolls that look similar to Bermuda Fleur dolls and that could be confused with them if found nude are:
Alpine 1986: Logo Fleur doll with blonde or chestnut brown hair, very similar to the second edition of Bermuda Fleur, but with reddish lips instead of orange.
Promotion Polkadot 1986: Logo Fleur with three haircolors, blonde, middlebrown and dark brown. Head was hard Iike second edition Bermuda Fleur but with more hair rooted, eyes were smaller.
Special Offer 1987: Logo Fleur with blonde and middle brown hair, similar to Bermuda second edition but fuller rooted hair and very soft head.
Jeans Fleur 1984: non Logo Fleur with Ponytail and fringe.
Special Offer Fleur 1983: non Logo Fleur with Ponytail and fringe.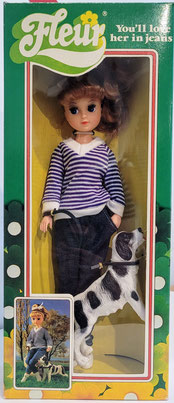 ---
If you liked this blog post, please leave me a comment so I see that anyone is reading it at all!
---