Because Sindy is the grandmother, mother and cousin of Fleur doll ...kind of hihi.... this blog post is about a rare one: Martinair Sindy.
As you may know, Pedigree, the UK creator of the Sindy doll, often gave away lizenses to foreign toy makers to produce and sell Sindy dolls on the foreign market, like Marxs in the USA, Schuco in Germany, Florido in Spain etc. 
In Holland in 1975 the Toy maker Otto Simon received the license for Sindy which was retracted only a short time later for unknown reasons. Otto Simon did not have much time to produce Sindy and they were able to only release two Sindy dolls for the dutch market, Volendam Sindy (see here more about her) and Martinair Sindy.
Martinair Sindy was only sold on board of planes as a souvenirs doll dressed in the fly attendant suit of Martinair. She was packed in a clear plastic bag. There were three editions of this doll made.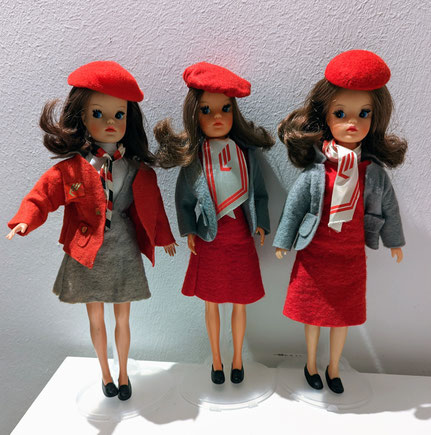 First edition 1975-1977
In 1975 Otto Simon got the license to produce Sindy dolls and the first edition of Martinair Syndi was probably released the same year. In 1977 Martinair changed their uniforms and this Sindy is wearing the past uniform, hence she was made from 1975 to 1977.... See here an overview about the Martinair uniforms (extern link to uniformfreak). Although she was made for two years, the quantity of these dolls must have been small, because this version is the hardest to find.
The uniform consist of a grey felted dress, a red felted jacket with pockets and a striped scarf in black, white and red. On her head she wears a red felted beret. Mine came wearing a white blouse under the dress, however I don't believe that the blouse is original.
She has three golden buttons made of paper glued to her jacket and the Martinair emblem. On her feet she wears black flats.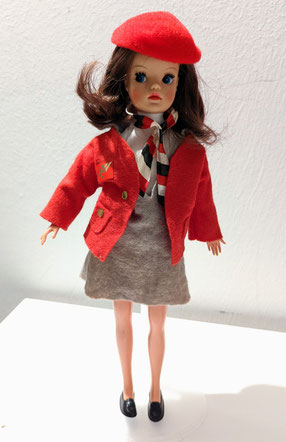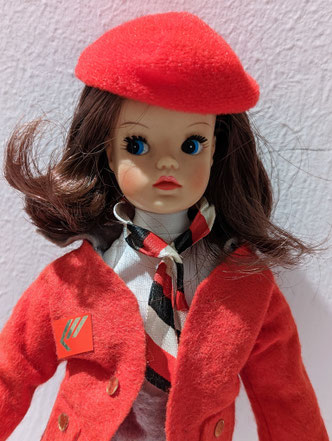 The doll has the Gauntled body, identical to the body made by Pedigree for Lovely Lively Sindy in 1971, with hart plastic hands. However she is only market with an "E" between her shoulder at the back (Lovely Lively Sindy is market "Made in Hong Kong E"). See here a blog post about the Gauntlet body. 
The headmold might be also identical to Lovely Lively Sindy from 1971, it is made of hart, a bit greyish vinyl marked 033055X at the back of her head. The facepaint is similar, but not identical to Lovely Lively Sindy. Her brows are less arched and the lower lip is painted less full. She has stick in lashes made of very thin black wire like the early Sindy dolls (not rooted lashes with real hair). She has coarse shoulder long brown hair, she was not made with different haircolors.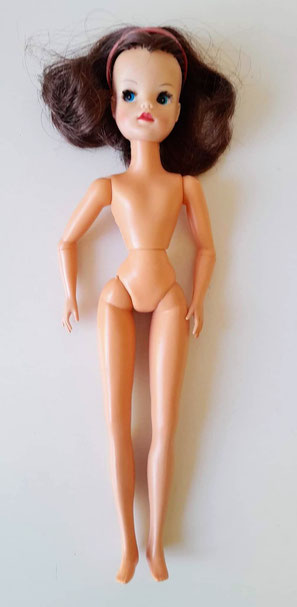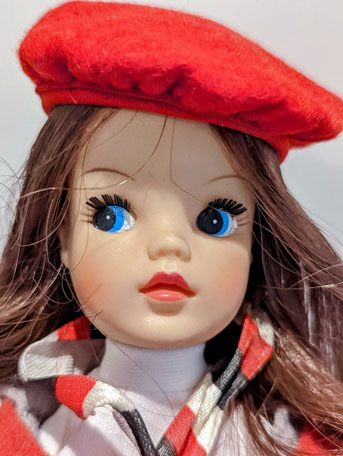 Second edition 1977
It's an educated guess that the second edition of Martinair Sindy  was released in 1977, because the doll is wearing the uniform, that fly attendants were wearing after 1977. This variant must have been made for a short period of time, as she is much harder to find than the third edition.
She wears a red felt dress, a grey jacket, a white scarf with the Martinair symbol in red and a red beret. She is wearing the same black flats as the first edition. This uniform has also three golden buttons and the Martinair emblem on the jacket (not pictured).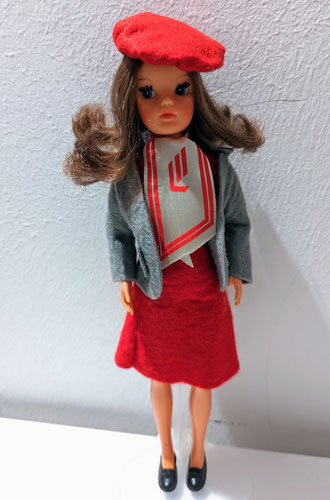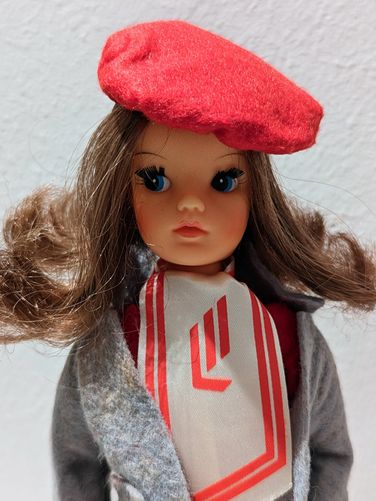 The appaearance of the doll changed as well. She is now made of a much darker, orange material. She still has the gauntlet body market with an "E" but the hands are now made of a soft rubber and are bigger, than of the first variant. Her head is much slimmer and also more orange to match the body color. The facepaint is similar but the lips are less full. She has the same stick in lashes as the first variant. Her head is also marked with 033055X at the back. She is rooted sparely with brown, shoulder long hair.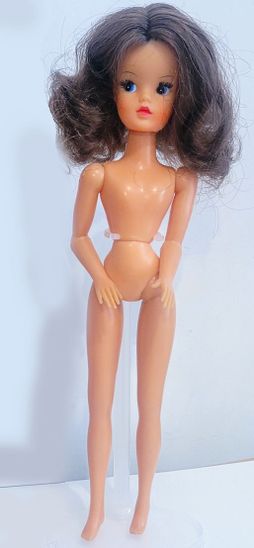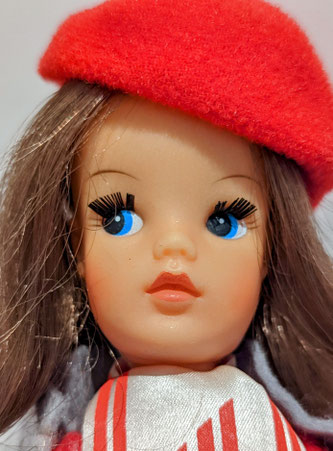 Third edition 1977-1978
The third edition was probably released from 1977 to 1978, untill Otto Simon lost the license to Sindy. Of all the editions she is the one easiest to find. But only if you live in Holland 🤭 Outside of Holland these dolls are very hart to find. 
She was wearing the exact same uniform as the second variant. The doll however looks different.
She doesn't have the Gauntlet body anymore. She has now a body with straight hart plastic arms with tiny hands that was later known as the 70s Fleur doll body in a flesh toned color. This edition was available with at least two headmolds: One similar to the first edition with a round face and one similar (if not identical) to the second edition with a slim face. Both molds were made with the same hart vinyl in a flesh tone, much less orange than the second edition. She had brown hair that was fuller, softer and slightly longer than the two previous variants.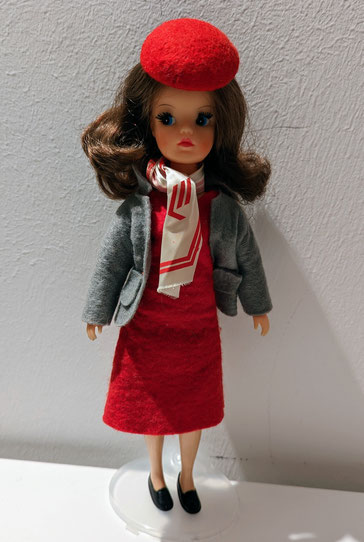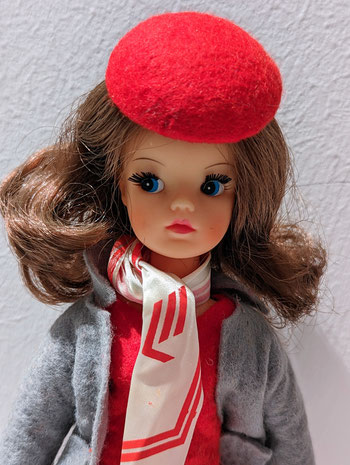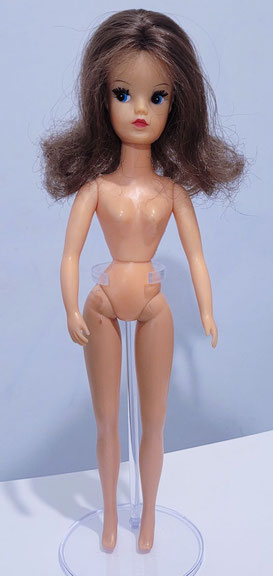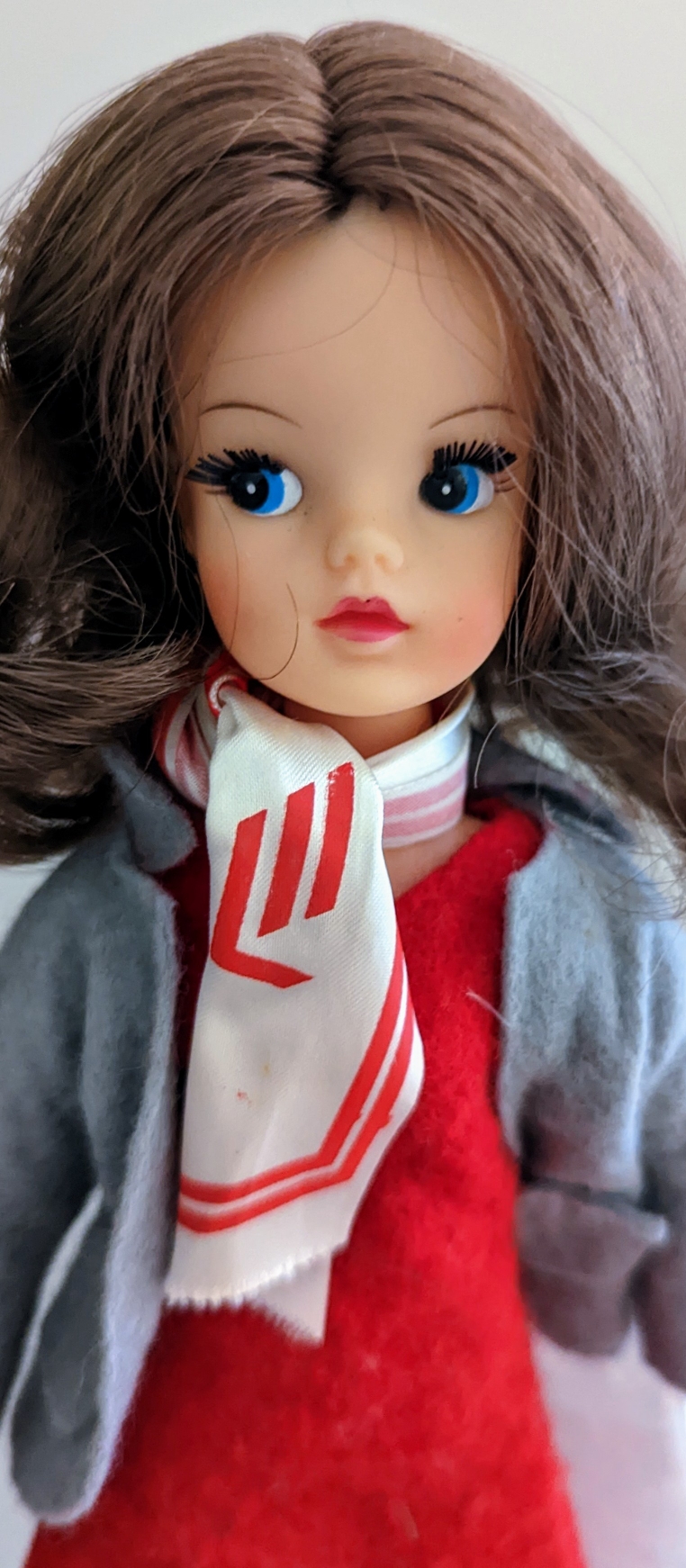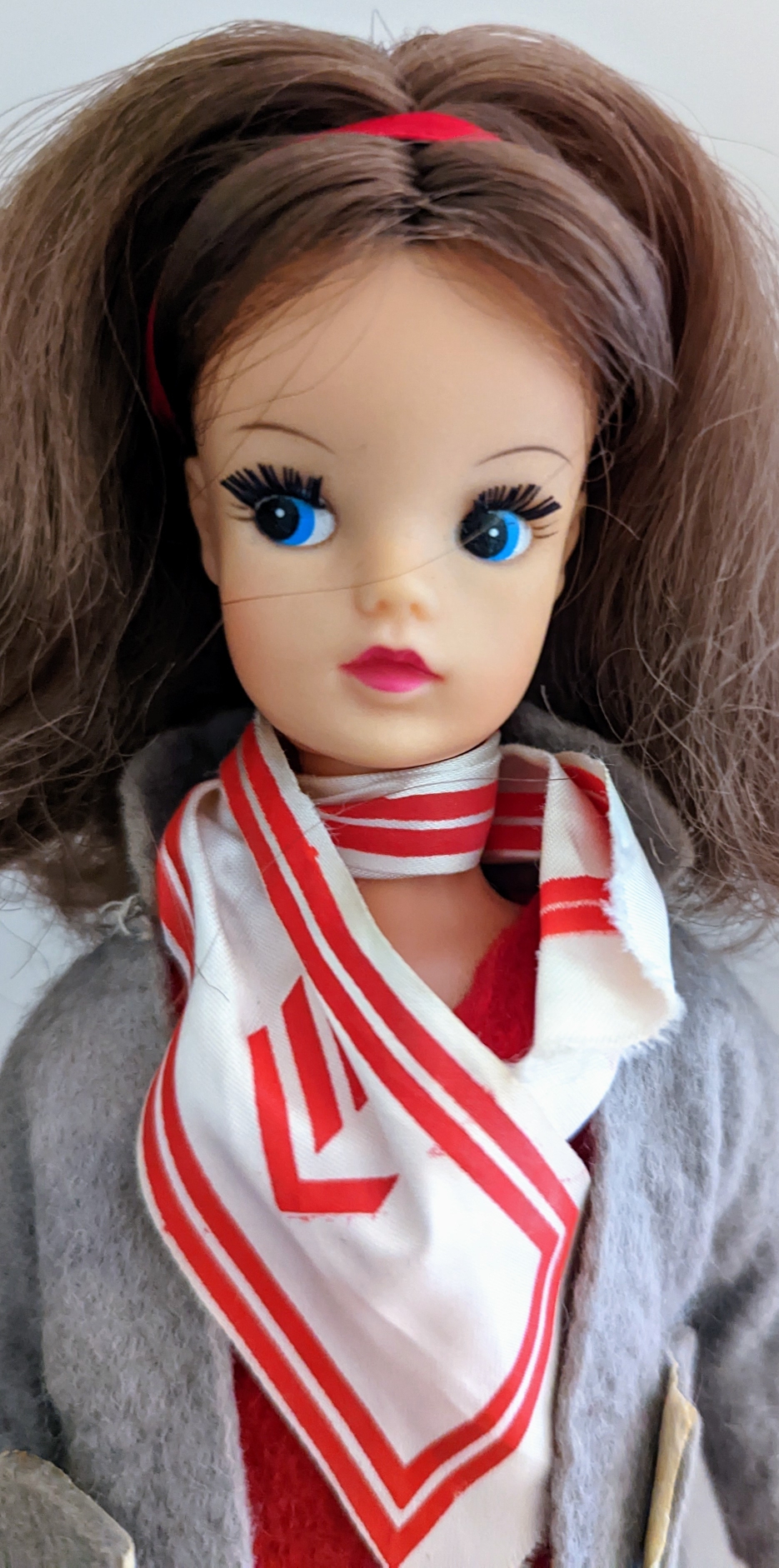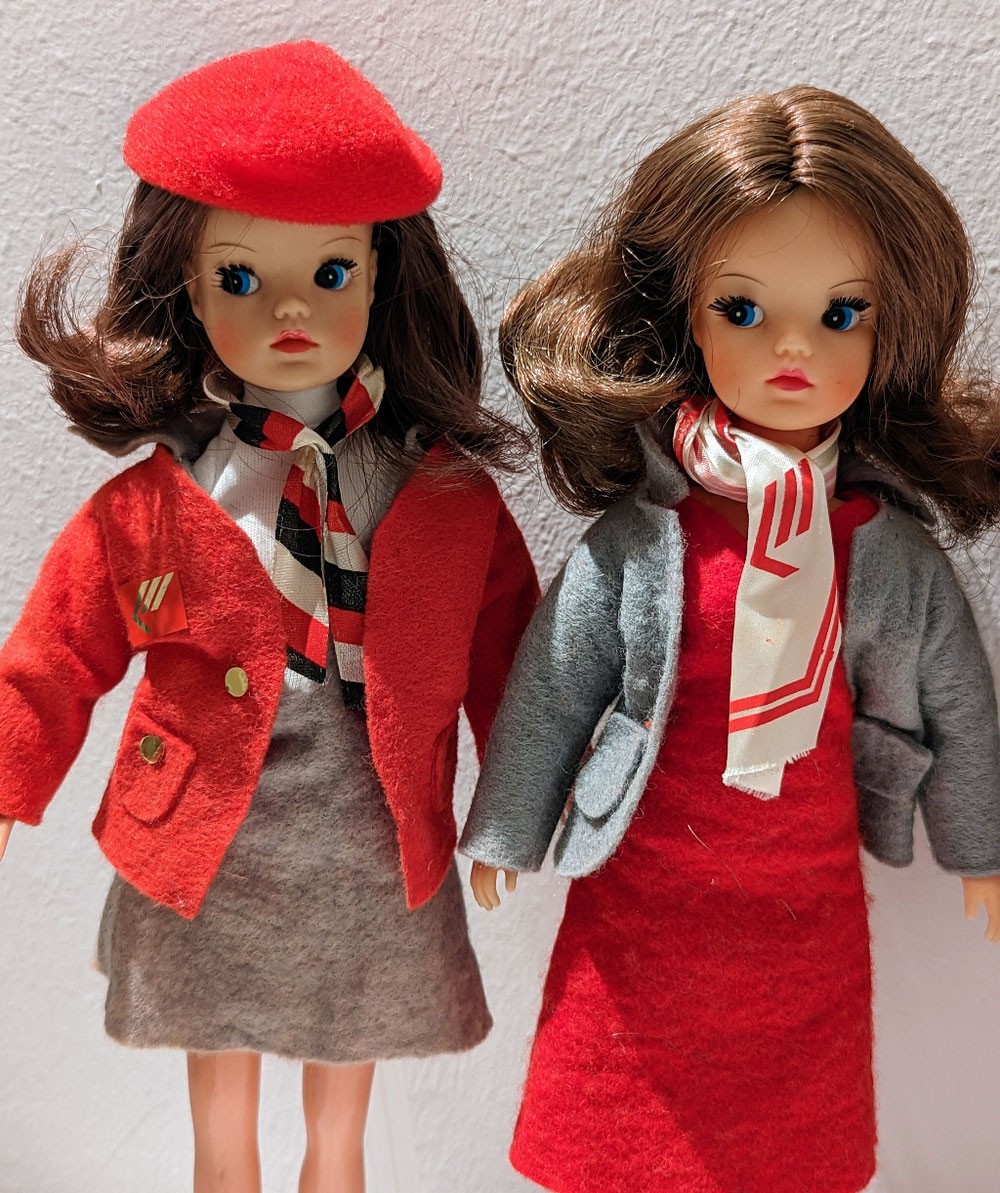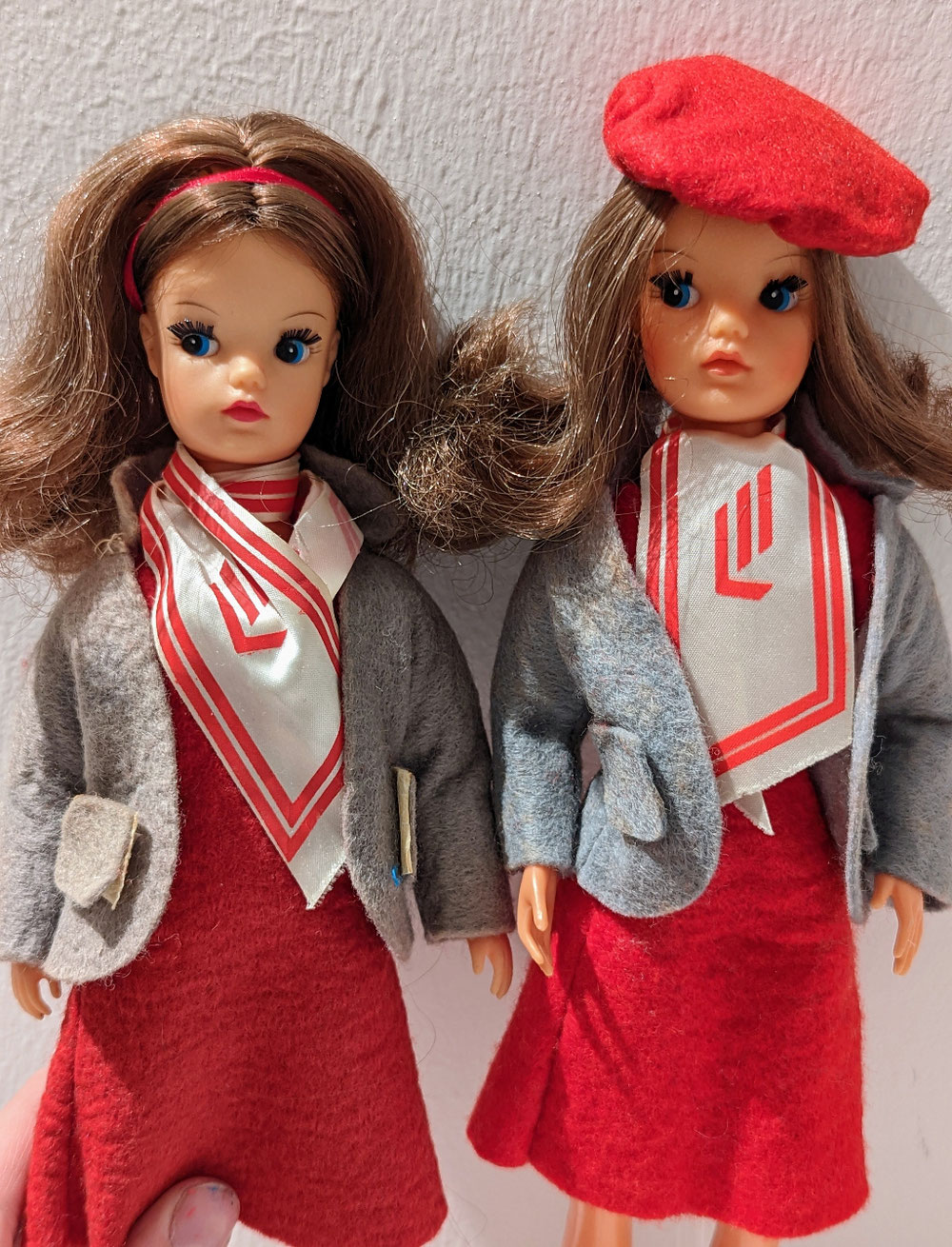 Packaging
As mentioned earlier, Martinair Sindy was sold on board of airplanes packed in a clear plastic bag. I bought one of my Sindies together with her original packaging. It's a simple transparent plastibag that was closed at the upper end with a cardboard (that is sadly missing). 
---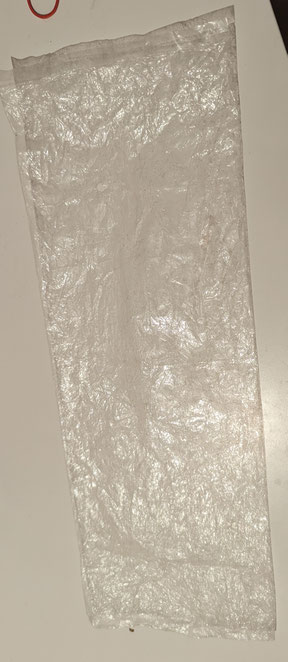 ---