Introduction
The so called Gauntlet Fleur is one of the biggest mysteries in the Fleur universe. I spoke to many collectors about her, and no one knows how the Gauntlet Fleur doll was sold and what she was wearing. There is no official documentation about her, she doesn't have any promotional pictures or appears in any cataloques. However there are promotional pictures with a Gauntlet Fleur modeling Fleur fashions, fashions that were sold seperately and not on a doll.
There are as many theories about Gauntlet Fleur as there are Fleur collectors out there. But all agree that she must have been released in the 70s. I also have my theories of course, but before I reveal them, let's do some research first!
Gauntlet Fleur
There are two versions of Gauntlet Fleur out there, the (so called by me) Standart Gauntlet with painted on lashes and the Gauntlet Fleur with stick in real lashes.
Standart Gauntlet Fleur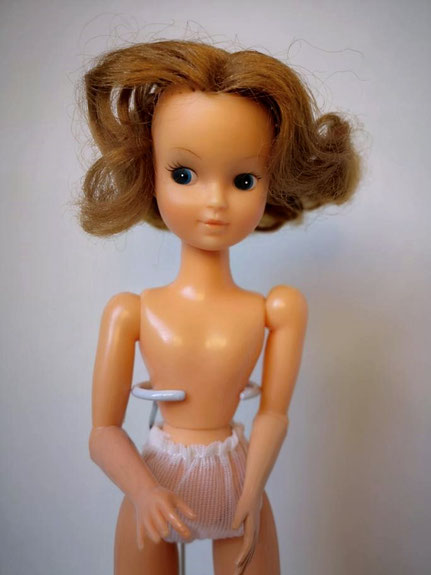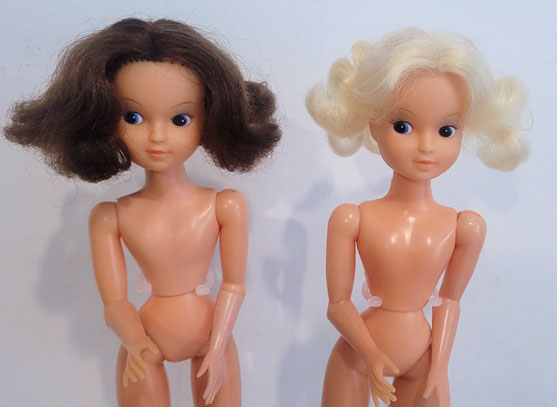 The Standart Gauntlet has the first basic facemold (see here for all facemolds used for Fleur dolls released in the 70s), she has no stick in lashes, but painted on three thin lashes. She is the only Fleur doll untill 1988 that has no real lashes. Her hair is short, full and curly, made of a synthetic fiber that resembles mohair but is much stiffer. She was available in three haircolors: dark brown, blonde and ginger. Her skintone is orange.
Gauntlet Fleur with lashes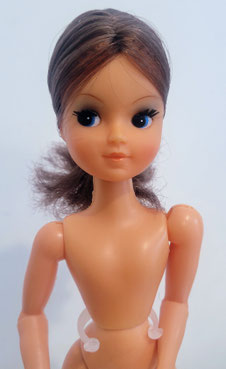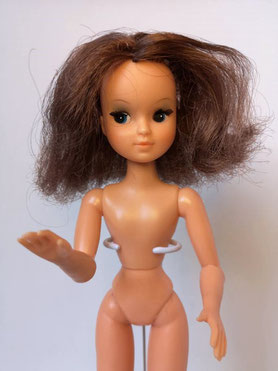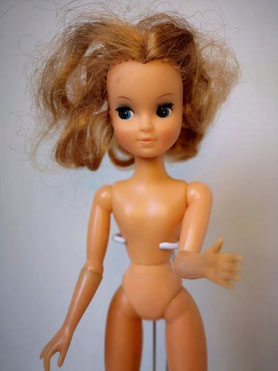 The second version is the Gauntlet Fleur with lashes. Her facemold is unique, very big and nearly square and she has stick in lashes (or spike lashes as called by collectors)  like all other Fleur dolls from the 70s. She has shoulder long hair that has an outside flip (mine has them in a ponytail), most of these dolls have a very coarse hairfiber that is rooted sparely, but I have also seen dolls with fuller hair, so there might be some more variations. The ony haircolors found untill now were brown and ginger. Her skintone is also orange exactly like the other Gauntlet Fleur.
Gauntlet Fleur body
Both Gauntlet Fleur versions have the same body, the Gauntlet body. It is very articulated with bending elbows, her underam looks like a gauntlet, that's where she got her name of (see here an overview about all Fleur bodies). The head sits on a neck knob and can rotate. The body is stringed with ball jointed shouders, waist, and hips. The ellbows can bend, the kneed can bent. She has a very small chest and is nearly flat. Actually her body is not very proportionate, but it is very easy to be identified because of it's unique look. It is made of a shiny, orange toned plastic, the underarm is made of a soft rubber.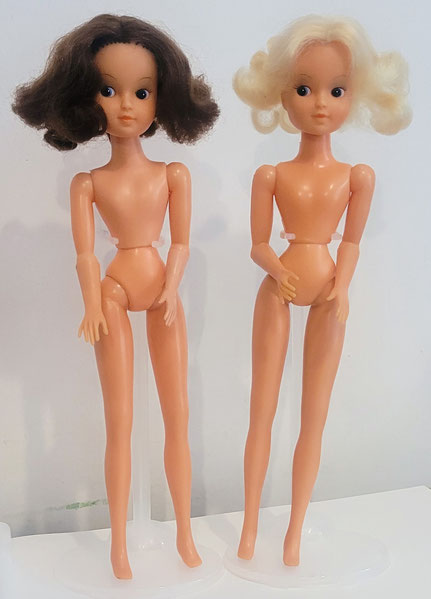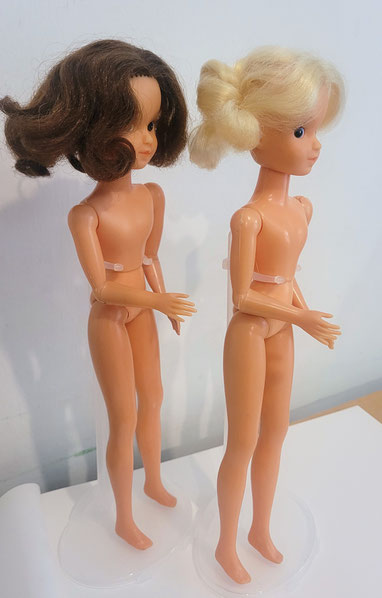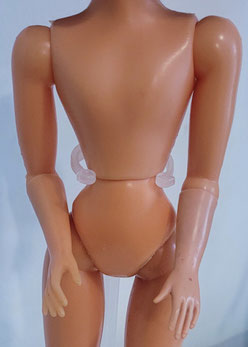 One of my brunette Standart Gauntlet Fleurs has two different underarms, one is orange and made of soft rubber, like the other Gauntlet Fleurs, the other is more of a flesh color and hart rubber. If you continue to read, you will find out why she looks like this!
Doll history
To find out more about Gauntlet Fleur we have to go back in doll history. And the history of Fleur doesn't start in Holland, where Fleur was created, it starts in England with the doll Sindy by Pedigree. You may know, that the history of Sindy and Fleur are connected, please see here (extern link to Fleurdolls.com/blog) the whole story.
In short words: Pedigree, who produced Sindy dolls first in the UK, later in Hong Kong, for the UK very succesfully from 1963, gave a license to Otto Simon, a durch toy maker, in 1975 to produce Sindy dolls for the dutch market. But Pedigree withdraw the license again after a short period of time (1978), much to the anger of Otto Simon, who had big plans for Sindy. So the owner of Otto Simon decided to launch an own doll for the dutch market and this was the birthhour of out beloved Fleur doll.
But what does this all have to do with Gauntlet Fleur you ask?
We'll go to it now!
The Gauntlet body
Lovely Lively Sindy by Pedigree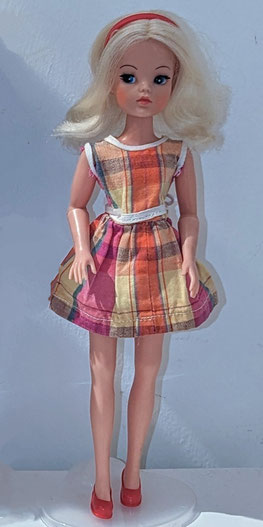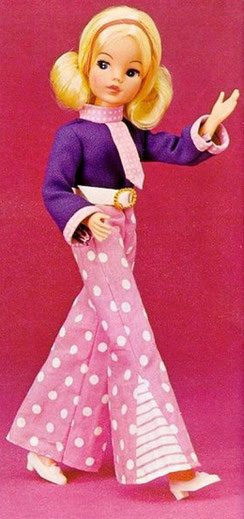 The Fleur doll was not the first doll ever made with the Gauntlet body.
Actually the Gauntlet body was designed by Pedigree for the first Lovely Lively Sindy in 1971.
Lovely Lively Sindy was one of the first dolls made by Pedigree with a fully articulated body. She has a neck knob, so the head could rotate completely, ball jointed waist, arms and legs with bending elbows and knees, the underarm looking like a gauntlet. The body was made of a flesh toned hart plastic, the underarm of hart rubber. In 1973 Pedigree released a second version of Lovely Lively Sindy with slight changes to the body. 
The first Gauntlet body by Pedigree has the marking "E made in Hong Kong" at the back between the shoulders, the second version has a P instead of the E between her shoulders at the back. They also look slightly different, the 71 version has a flat crotch while the 73 version has a Y- shaped crotch.
The first Lovely Lively Sindy 1971 had stick in lashes, the second version of Lovely Lively Sindy, made in 1973, had rooted in lashes (and all Sindy dolls made by Pedigree after that year had rooted lashes with hairfiber). 
Martinair Sindy by Otto Simon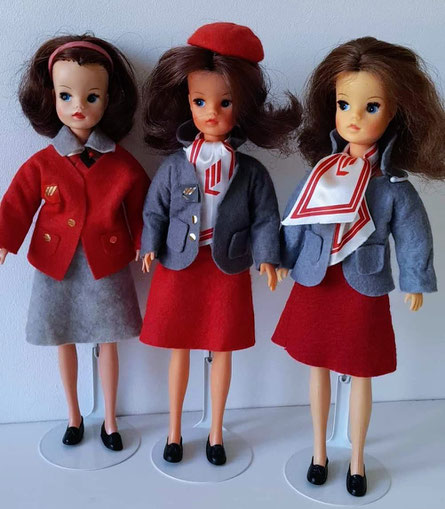 As mentioned above Pedigree gave a license to Otto Simon in 1975 to produce Sindy dolls for the dutch market.
The first Sindy doll by Otto Simon was the Martinair Sindy, a doll dressed in the uniform of the fly attendants. 
 Otto Simon released Martinair Sindies between 1975 and 1978 and there are three versions made. 
The first version was dressed in a grey felt dress, a red felt jacket and a striped scarf, which was the uniform of Martinair fly attendants from 1972-1977 (check here for all the Martinair uniforms, extern link to Uniformfreak.com). The second version of Martinair Sindy must have been released in 1977 as she is wearing the new uniform Martinair fly attendants wore from 1977 to 1982, consisting of a red dress, a grey jacket and a white and red kerchief. The third version was wearing the same uniform as the second version and must have been released shortly after.
First version of Martinair Sindy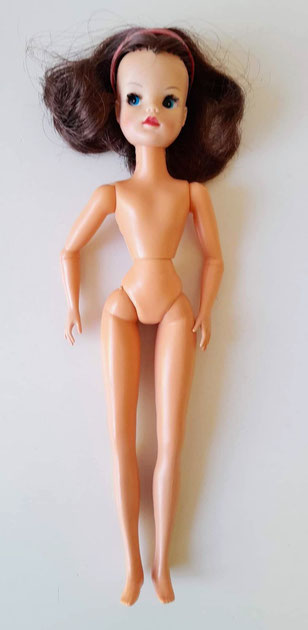 The first version of the Martinair Sindy, released in 1975, came on a Gauntlet body! And it was the exact same Gauntlet body, that Pedigree has designed for Lovely Lively Sindy in 1971. The shape of the Torso, crotch and hands was exactly the same. The markings on the back of the body were just an "E" missing the "made in Hong Kong" line although it is known that Otto Simon also produced these Sindies in Hong Kong. The skin colour was the same as Lovely Lively Sindy, a flesh tone and much less orange then Gauntlet Fleur.
The headmold was the similar to Lovely Lively Sindy marked with 033055x at the back of her head. She also had the stick in lashes, her facepaint was different to Lovely Lively Sindy. Her eyebrows are less curved, her pupils are faceing more upwards and the lower lips is painted less full. She came only with chestnut brown hair, often of poor quality (but not always).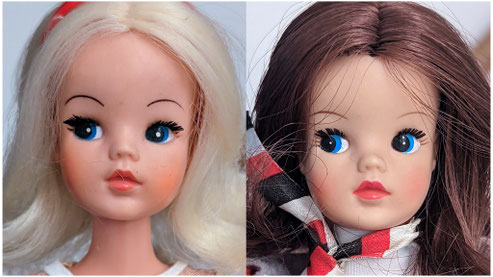 Second version of Martinair Sindy
The second version of Martinair Sindy was also on a Gauntletg body with the same shape as the first version, but the plastic used for it was more shiny and of an orange color. The lower arms, the gauntlets, were made of a softer rubber. She was marked with an E at the back. If you look very closely in a certain angle, you can see that there was a "made in Hong Kong" there as well, but was erased.
The headmold of the second version of Martinair Sindy was much slimmer than the first edition and made with a more orange tone to match the body with the same marking 033055x at the back. The facepaint was exactly like the first version and she also had stick in lashes. She was only made with chestnut brown hair, mostly of poor quality that didn't age very well.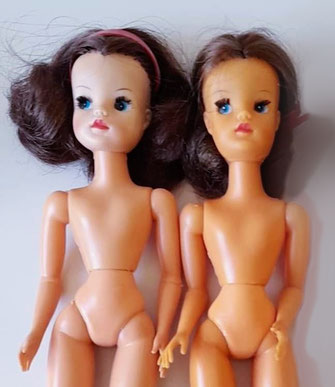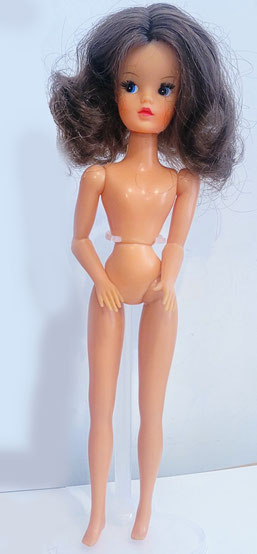 Third version of Martinair Sindy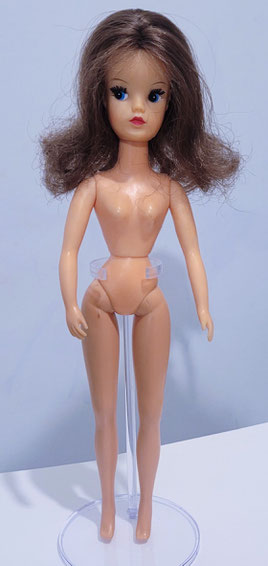 The third version of Martinair Sindy didn't come on a Gauntlet body.  She has straight, unbendable arms with small hands, a rotating waist, ball jointed legs and bending knees. Her body was made of a more flesh toned and less orange hart plastic and rubber. This body will be later known as the 70s Standart Fleur body!  The headmold could be the same as the second version of Martinair Sindy or again wider, more similar to Lovely Lively Sindy, but less orange to match the body. Some of these heads are wider than other without any consistency. The hair was also only chestnut brown.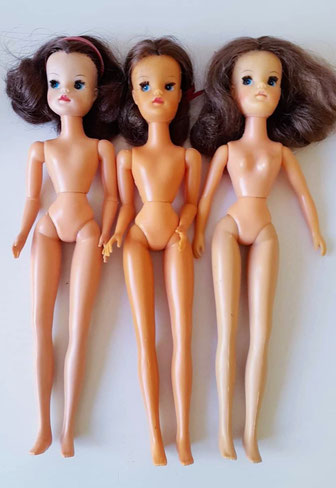 Volendam Sindy by Otto Simon
Besides Martinair Sindy Otto Simon made another Sindy doll for the dutch market, the so called Volendam Sindy. This doll is very rare and I'm very happy that Patricia Ruiter provided me photos of her doll for this blog. Because she is so hart to find, they probably didnt made her for a long period. It is unknown when exactly she was released, but must have been between 1975 and 1978.
Volendam Sindy was a souvenir doll. She was wearing the traditional costume of Volendam, a touristic hotspot in the Netherlands.
Volendam Sindy had the exact same Gauntlet body as the second Martinair Sindy, made with an more orange skin tone. Her body is also marked with an E between her shoulders on the back. Her headmold is the same as Martinair Sindy second edition with the same facepaint and the marking 033055x at the back. She was only made with silver platinum hair as far as I know. I will tell you a lot more details about Volendam Sindy (and Fleur) in my next blog post, so I will keep this short here.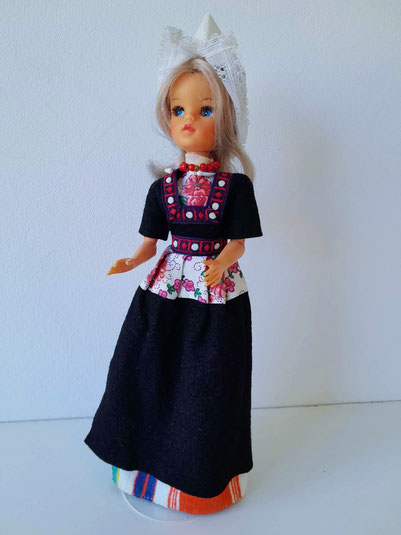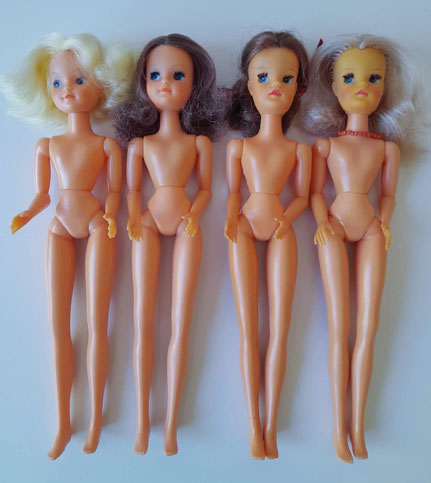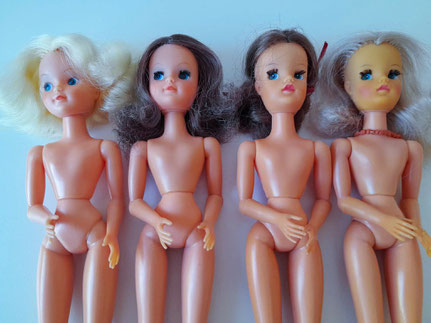 Comparison photos between the Standart Gauntlet Fleur, Gauntlet Fleur with lashes, Martinair Sindy second version and rare Volendam Sindy. The body of all these dolls is exactly the same.
Spanish Sindy by Florido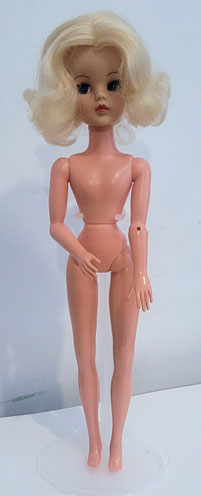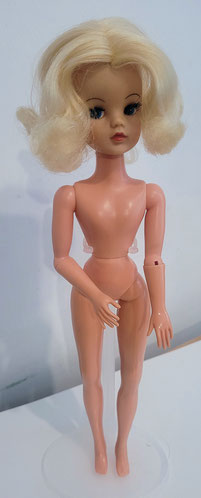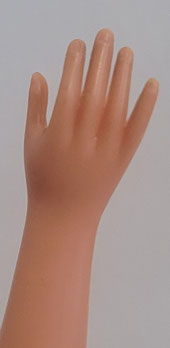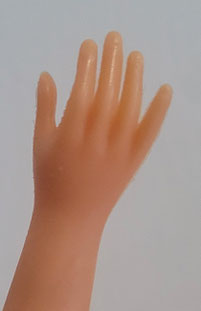 Otto Simon was not the only foreign toy maker, who produced Sindy dolls under the license of Pedigree with the Gauntlet body. The spanish toy maker Florido produced Sindy dolls bertween 1974 and 1976, all with the Gauntlet body.
The body of these dolls is of a flesh tone marked with an E at the back. The gauntlets are made of a hart rubber and are shaped exactly like the hands of Gauntlet Fleur. There are also Florido Sindies with more detailed sculpted hands, but not all dolls have them. The headmold of Florido Sindies is the same as Lovely Lively Sindy from 1971 with also stick in lashes. The facepaint can look exactly like Lovely Lively Sindy 1971 with full lips and strongly arched brows or can resemble Martinair Sindy with a thinner lower lip and less curved eyebrows. But the hairstructure is oddly the same as the Standart Gauntlet with painted  lashes, very fluffy and stiff.
But let's go back to Gauntlet Fleur, shall we?
Gauntlet Fleur in adverts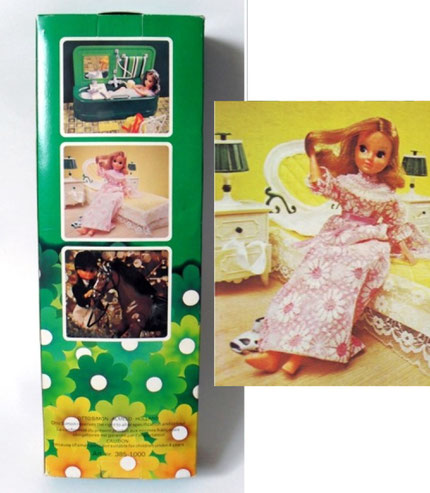 The first official pictures of a Gauntlet Fleur with lashes can be found on the back of the box of the very first Basic Fleur, modeling a night gown and a horse riding outfit.
It doesn't surprise, that Otto Simon still had the gauntlet body available. Because of Martinair and Volendam Sindy they had probably plenty of these bodies left... so they used them for promotional pictures because of her ability to pose.
 The Gauntlet Fleur with lashes was used in a couple of promotional pictures for Fleur fashions and furniture from the 70s: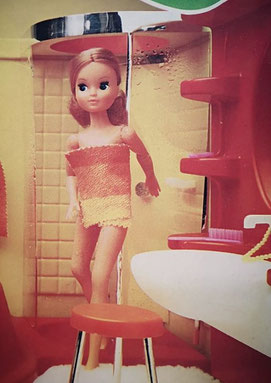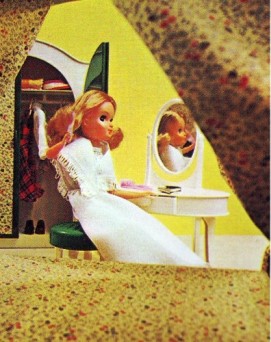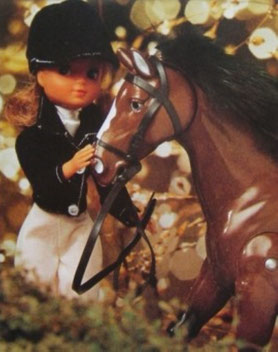 Interestingly, the head of the Standart Fleur doll with painted on lashes was used for a couple of promotional pictures for dolls in the late 80s. The promotional pictures were made with prototype dolls and the end product didn't look like this at all. These prototype dolls had the Gauntlet head but not the Gauntlet body. Some of these dolls didn't make it into production at all.
The following pictures show the prototype dolls.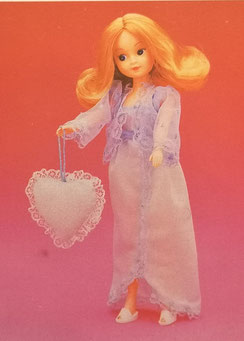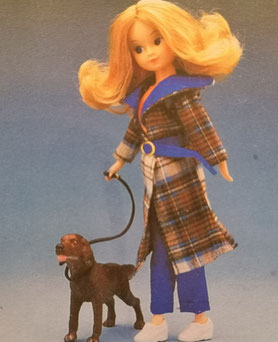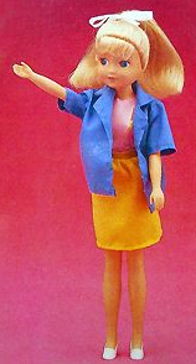 The prototype dolls have a different hairstyle than the real Standart Gauntlet Fleur head. There are no official pictures of the original Standart Gauntlet Fleur. 
So the question is....
Who is Gauntlet Fleur?
When you read untill here, you might expect that I reveal to you now the big mystery who Gauntlet Fleur was.... But the truth is, I don't know! Since there are no official photos, no official describtion or mention of Gauntlet Fleur, all I can do is speculate. So let's speculate!
Theory number 1: Volendam Fleur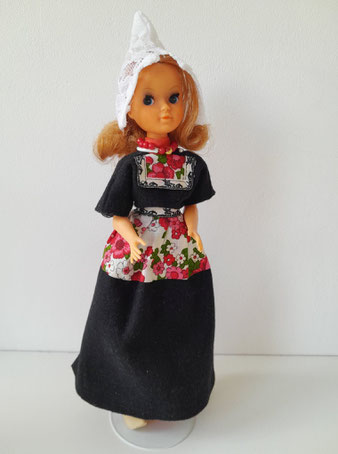 To me, it seems logical that Otto Simon continued the Volendam line with Fleur after loosing the license to Sindy. And since Volendam Sindy was a Gauntlet it is very likely that they used leftover Gauntlet bodies for Volendam Fleur as well. Volendam Fleur (and Sindy) were not sold in boxes, but in clear plastic bags. Neither have I nor my Fleur collector friends ever seen a Volendam Fleur still in bag, so I cannot verify this theory. But looking at Volendam Sindy, the Gauntlet Fleur with lashes have a similar apearance and a very similar hairstyle with sparely rooted coarse hair, which might not be very appealing to little children to play with, but would look pretty with the traditional Volendam cap on.
The Standart Gauntlet with painted on lashes have very fluffy, curly hair and the cap might not fit that well. Of course it is only a speculation. Maybe they used both... or none. 
Theory number 2: Martinair Fleur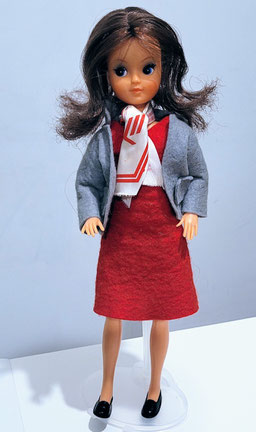 Martinair Fleur... wouldn't it be neat? I can imagine that Otto Simon had lot's of Martinair Sindy bodies and outfits left after loosing the license, so why not sell the left overs with Fleur?! This theory cannot be verified at all...and is just a fleeting thought that I had.... 
Theory number 3: Basic Fleur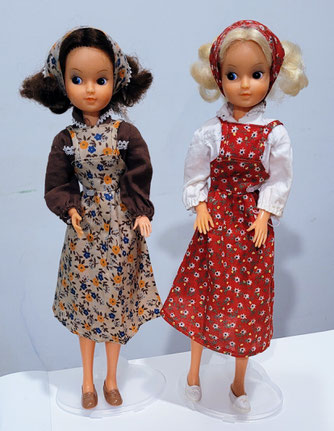 We know that the Gauntlets must have been produced very early, in the same time as the first Basic Fleur. The Standart Gauntlet Fleur was made with three haircolors, like all Fleur dolls, that were sold in boxes. They also have the same facemold like the first Basic Fleur, just without the gap for stick in lashes. Maybe they were also sold in the Basic Fleur outfit as an experiment, but people prefered the ones with stick in lashes, so Otto Simon canceled their production and used the heads as Prototypes only. 
Theory number 4: Beach and Babysitter Fleur
If the Gauntlet Fleur was sold in an own outfit, there are just two Fleur dolls, that I haven't seen NRFB untill now. All other dolls I or any of my Fleur collecting friends have seen or own in box.
None doll from the 80s was made with the Gauntlet body. In fact, in 1980 Otto Simon released the Ballerina body, which was just as posable and was very succesfull. So we have to concentrate on the 70s.
The first doll, that we haven't seen in box yet is Beach Fleur. It is not completely clear, if this was really a doll or only an outfit, but my friend Angela Mombers is convinced, that she was a doll. We have even seen a photo of a box that could have been hers, but without the doll. However the doll on the promo picture is a blonde with a standart 70s Fleur body and not a Gauntlet.
The second doll is Babysitter Fleur. This doll was probably released in 1980 and was described as a doll with bending ellbows. However in a catalog picture Babysitter Fleur appears as a 80s Fleur with the Ballerina facemold and Ballerina body. So I personally don't believe that Otto Simon used the Gauntlet Fleur for this doll.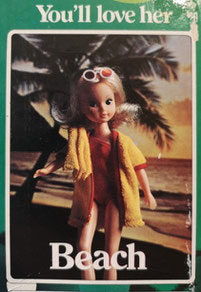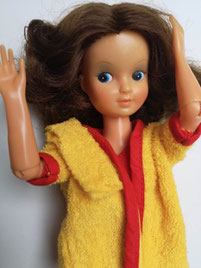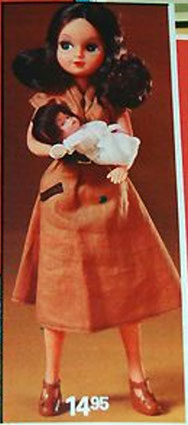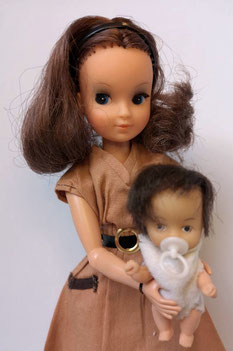 Theory number 5: Prototype and display dolls
I know from the vintage Barbie world, that there were Barbie dolls made for display only and also prototype and salesman dolls, that were not supposed to be sold, but were presented to toy stores and toy manufacturers. This all happened in the 60s in the USA. I don't know if this theory might apply to the Netherlands in the 70s, but maybe the Gauntlet Fleur dolls were also used in stores for the display or as salesmans examples. They were pretty posable, so would look great in any display. We also know, that Otto Simon did use the Standart Fleur head for prototype dolls in the 80s, maybe they did the same in the 70s and there are just no photos to proove it. It seems possible.
Theory number 6: unknown Fleur doll
Maybe there was an unknown Fleur doll made in the beginnings of Fleur production, that was made in a very small quantity and that didn't appear in any promotion. In this case we collectors would never know of her existence untill she appears still in box somewhere. 
Conclusion
After a lot of research Gauntlet Fleur still remains a mystery. Maybe one day some promotional pictures will leak from any Otto Simon archive, maybe someone will find a former Otto Simon worker to talk to or maybe someone will find a Gautlet Fleur in box. Untill than, we still can speculate and discuss what theory seems good and which seems unlogical. Let's discuss it in the comments! I look forward to read your theory!
A huge THANK YOU for providing me photos and informations goes to the lovely Patricia Ruiter of Patchdolldiary  and as always my amazing friend Angela Mombers of vintage_Fleur_doll. Without you two this blog wouldn't exist!!!
And lastly here are some fun photos of Gauntlet Fleurs in random outfits by Angela to enjoy!
---