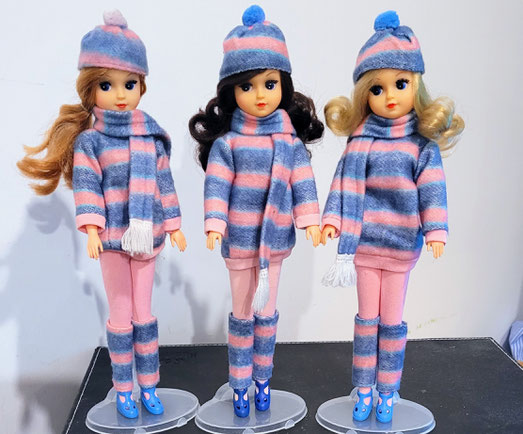 In 1984 Otto Simon released one of the most succesfull Fleur dolls ever, the Famous Fashion Fleur. She was made in a huge quantity and probably for several years. This is one of my favorite Fleur dolls, so be prepared for a lot of photos of this very cute doll!
The box
The box of Famous Fashion Fleur is very unusual. As all boxes before 1986 it is dark green with green and yellow flowers at the bottom. This box has the cellophane, that is prone to become yellow, from two sites and that's why it's very delicate. At the right site there is a bandana with "Met breiwol en mini-knippie" written, which is dutch and means "with wool and  mini knitting-needles".
The dolls is sitting in the box which is special as there is just one more doll that was sold sitting in the box, Kitties Fleur.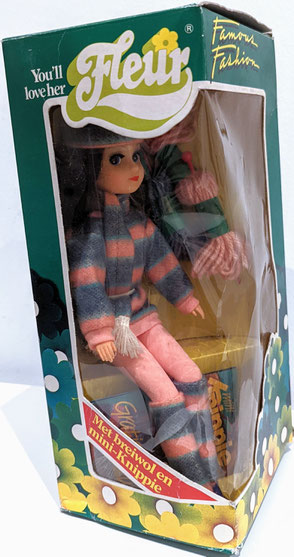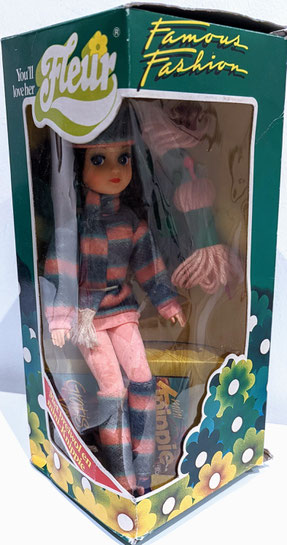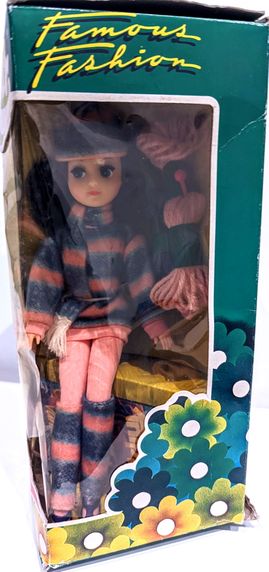 The celllophane of my blonde doll was very broken, so I had remove it.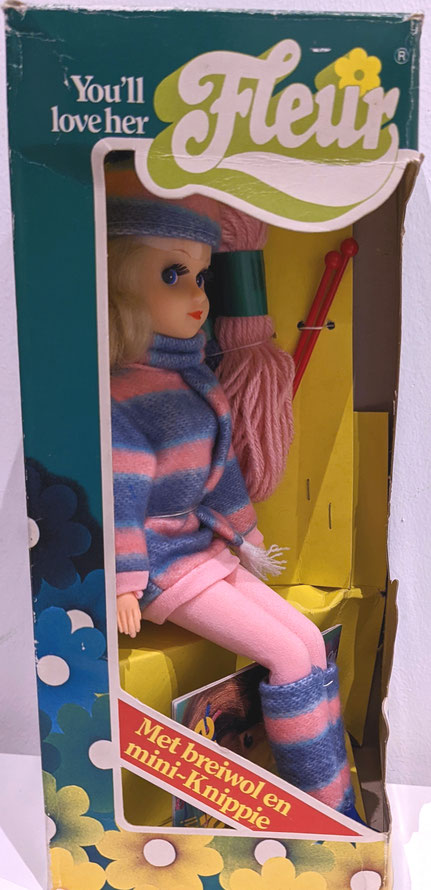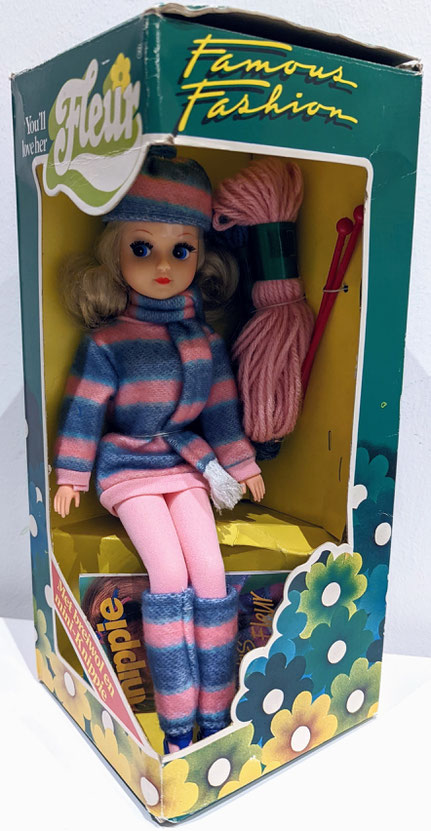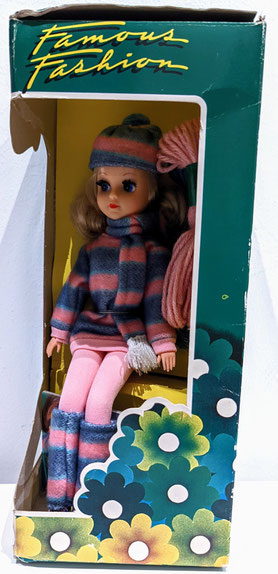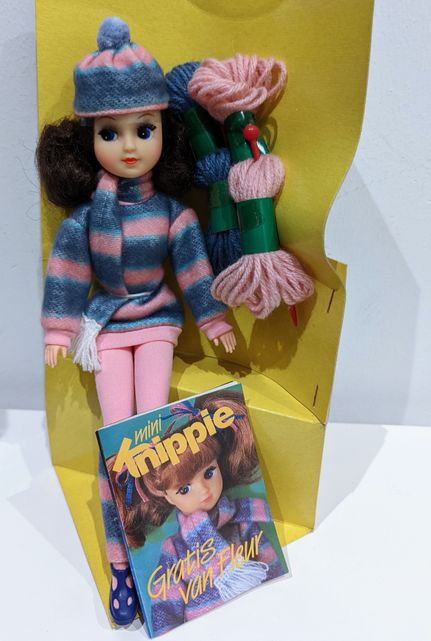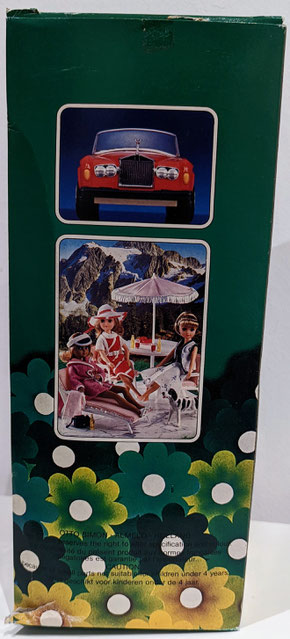 The doll is secured to the yellow cardboard only at the waist. The back of the box shows a promo picture of Fleur's red sportcar and a picture of the garden furniture set with Florida Fleur, Sunny Day Fleur and Jeans Fleur (probably Jeans Fleur because she is there sitting with her dog...) wearing outfit nr 1240.
I have two boxes and interstingly they are not completely identical. 
The difference is inside the box of the yellow cardboard. It is folded differently and also the knitting needles are put differently in the box, see photos.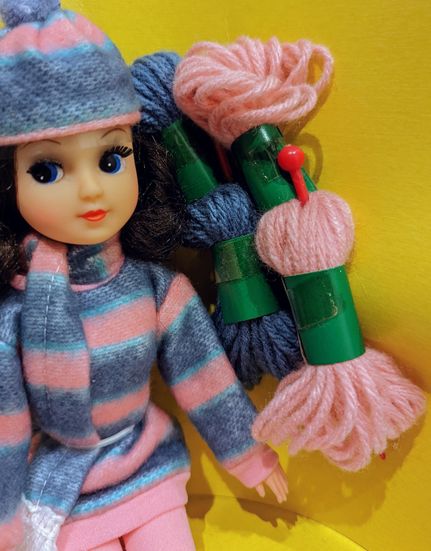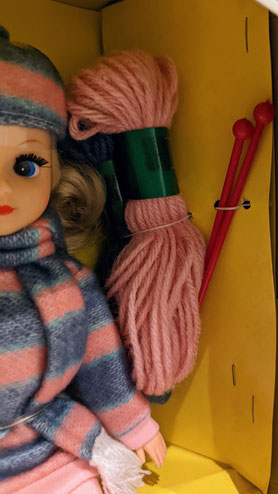 The doll
The doll has usually  the Aerobic facemold (see here an overview over the headmolds), her eyes are navy blue, her lashes strongly curled and short. She has big red lips and gentle blush on her cheeks.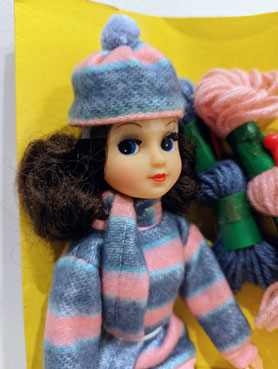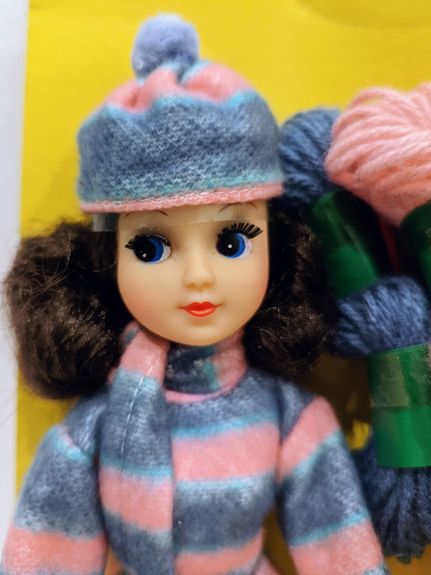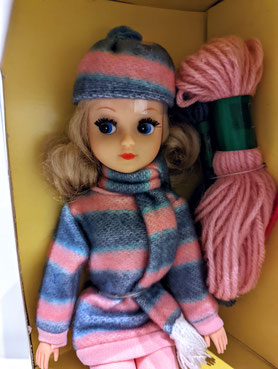 Her hair is very special and makes it easy to identify her when found nude: it is very long, if not curled it can go below her waist and is rooted with a sidepart styled into a voluminous Fleur flip. There is only one other doll with hair rooted in a sidepart, "In Concert Fleur" from 1982. 
In Concert Fleur is hart to find, so if you find a nude Sidepart Fleur, the possibility is big, that she is Famous Fashion.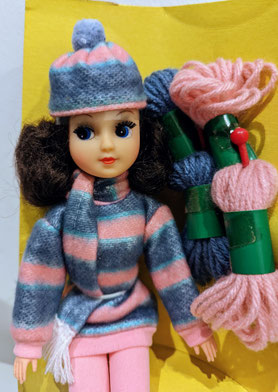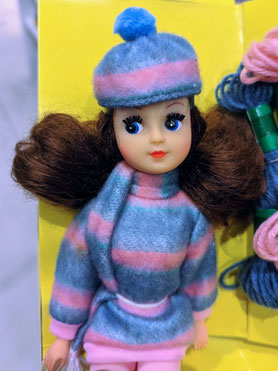 Famous Fashion Fleur was made with at least four haircolors,  with dark brunette hair, chestnut brown hair, titian hair and golden blonde hair. Sadly the quality of hair used for her was not very good, so it's hart to find them in good condition if played with. Especially the titian hair tends to get really brittle and to break off.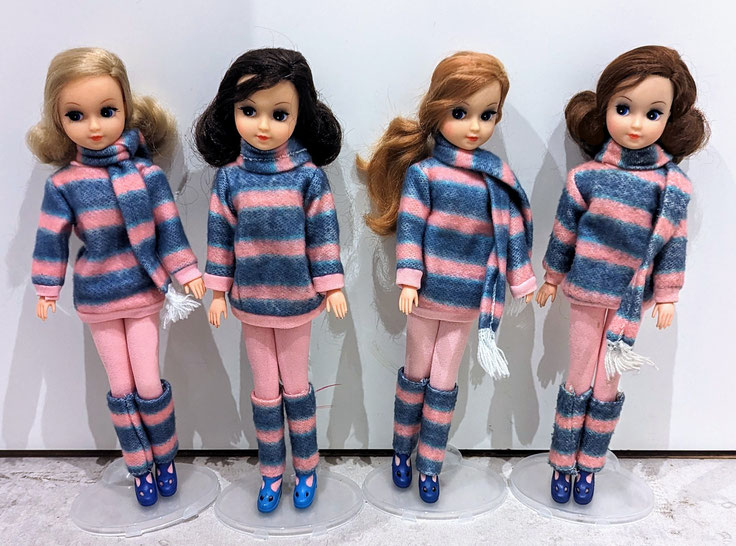 This doll was very successful, so she was produced over a long time period. That's why there are Famous Fashion dolls available with another facemold as well and maybe also with another haircolor.
I have a Famous Fashion Fleur with the Sunshine facemold, the biggest head Fleur ever had, probably made in 1987. She was probably sold in a light green box without any name written on it at the end of Fleur production. 
Famous Fashion Fleur had the Standart 80s body (See here an overview of all Fleur bodies).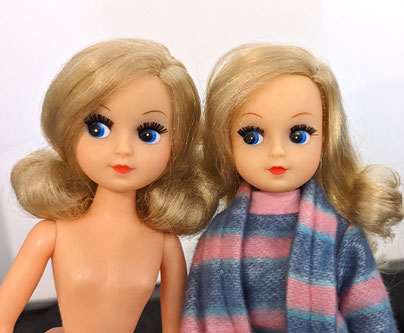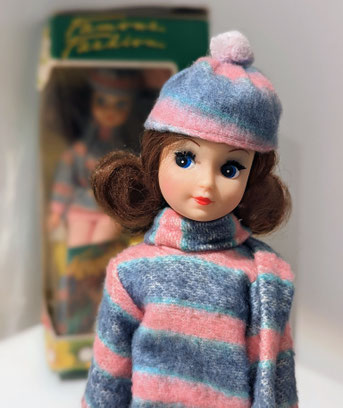 The ouffit
The outfit consists of a very cute wool hat with a blue pompom, a scarf, a long wool sweater, light pink tights and wool legwarmers.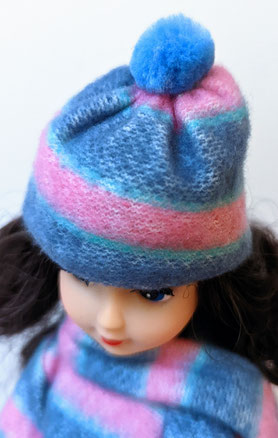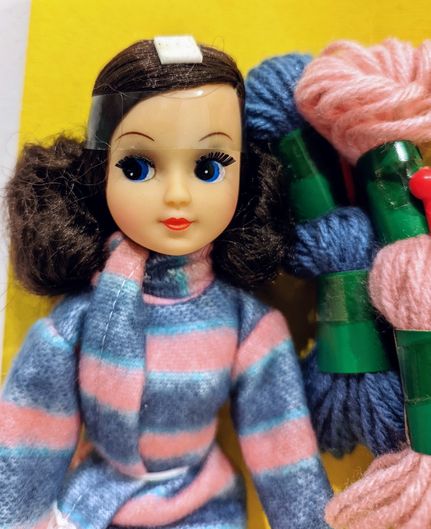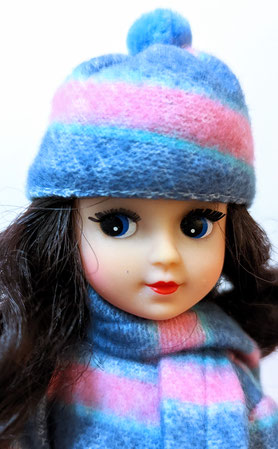 The hat is attached with a two site adhesive tape to the dolls head in the  box so it stays in place (which it often doesn't anyway)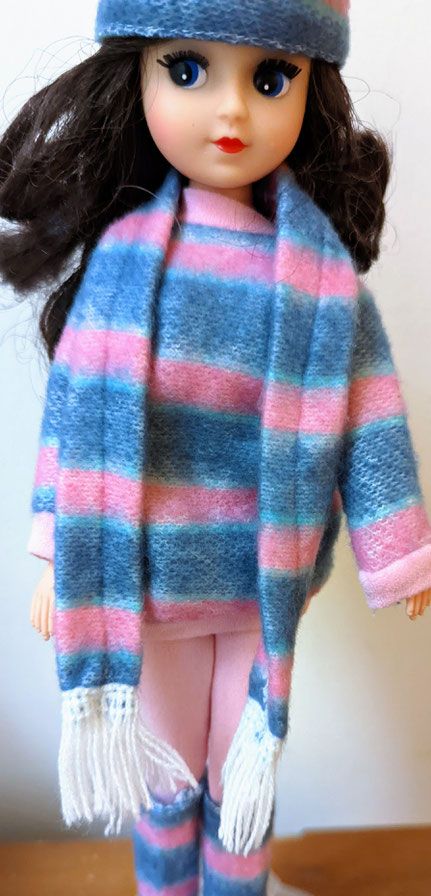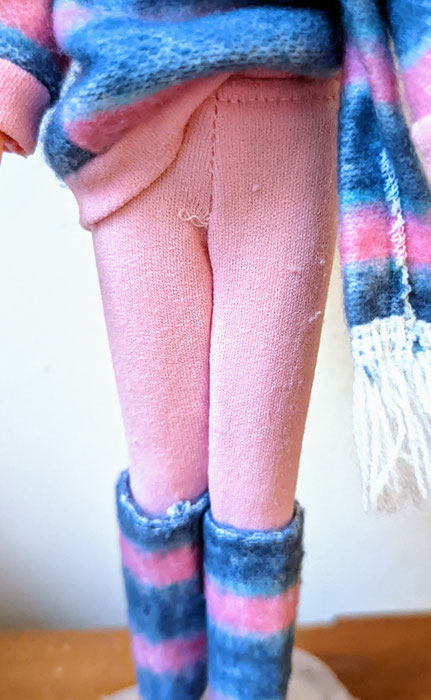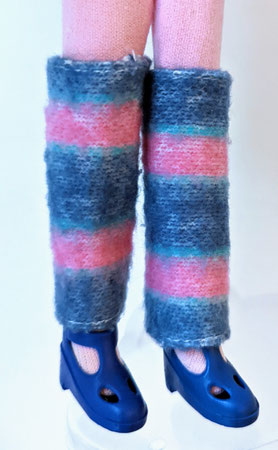 Strangely she is wearing blue sandals to this outfit which seemes rather odd! Who wears sandals in winter? Especially with thick tights!
I hope you liked this review of one of the cutest and most popular Fleur dolls. The outfits are still very easy to find in surpisingly good condition with still vivid colors. The quality of the dolls made back than is astonishing!
---