In 1978 a new doll was introduced to the toy market: Her name was Fleur, which means flower in french, and she was sold in a simple dark green box. She was wearing a rather simple outfit.
If you follow my blog, than you already know the history of Fleur, but if you are new here, here is a short retrospect:
Otto Simon, a dutch toy maker, received the license to produce and sell Sindy dolls on the dutch market from Pedigree, an UK brand that was producing Sindy dolls since the 60s. But shortly after, in 1978, surprisingly the license was withdrawn... much to the anger of Otto Simon, who had big plans for Sindy. So they decided to make an own doll and Fleur was born.
Her proportions are similar to Sindy, but the facemold and the bodymold were unique... so Fleur is not a clone doll.  Otto Simon didn't expect this doll to be so popular... and they didn't have a clear concept in the beginnings.... which resulted in a bit of a doll chaos for us collectors, who try to know (and own) everything....
So now let's look at the first Fleur ever made....and her variants! And there are many variants! We don't actually know which of the many variants of this doll was the very first one. It is very possible, that the variants were released at the same time and Otto Simon was testing the market, which one of them would work the best.
The Basic Fleur box
As mentioned above, Fleur was sold in a dark green box. I sadly don't own a boxed basic Fleur, but the owner of Fleurdolls.com owns one and she already made a blog post about her, please click here (extern link) to be forwarded to her blog post.
With permission ( I hope) I am showing you photos of her boxed Basic Fleur.
The box is slim and simple made of dark green carboard with the Fleur logo written above the cellophane and a flower print at the bottom. The back shows photos of Fleur fashions, that was released seperately and furniture.
The doll is attached via a rubber band with metal hooks to the yellow inside cardboard.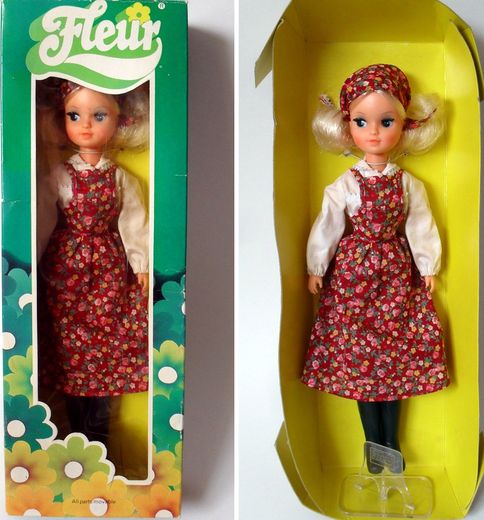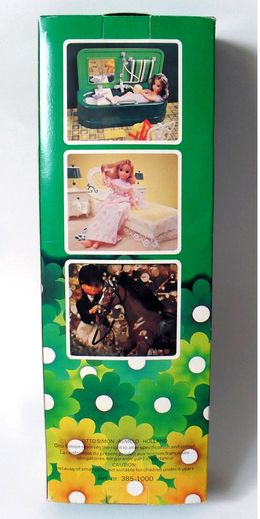 The Basic Fleur outffit
Her outfit was consisting of a white blouse with lacey trim , an apron-like dress made of cotton with a flower print and a headscarf made of the same fabric as the dress with lace trim at the back. She looks like a country girl that is going to milk her cows any minute....🤭 This dress and headscarf can be found in many colors with many different patterns. We don't know, if the first doll was available in different colors, or if they made more variants afterwards, when they realised how popular Fleur is getting.
On her feet Fleur was wearing black boots (usually). These boots differ from the boots that were added to many outfits in the later years.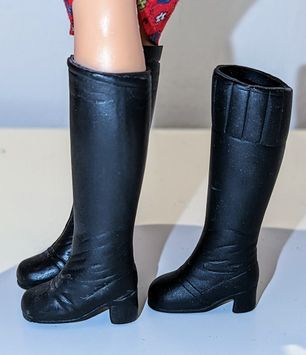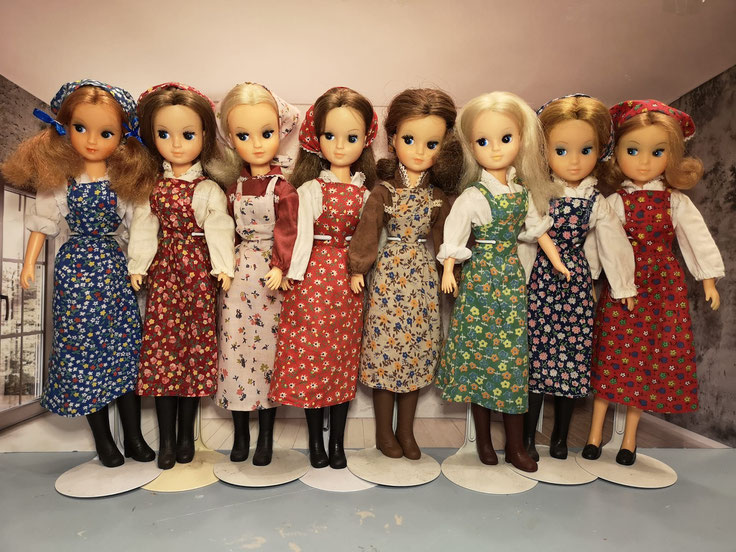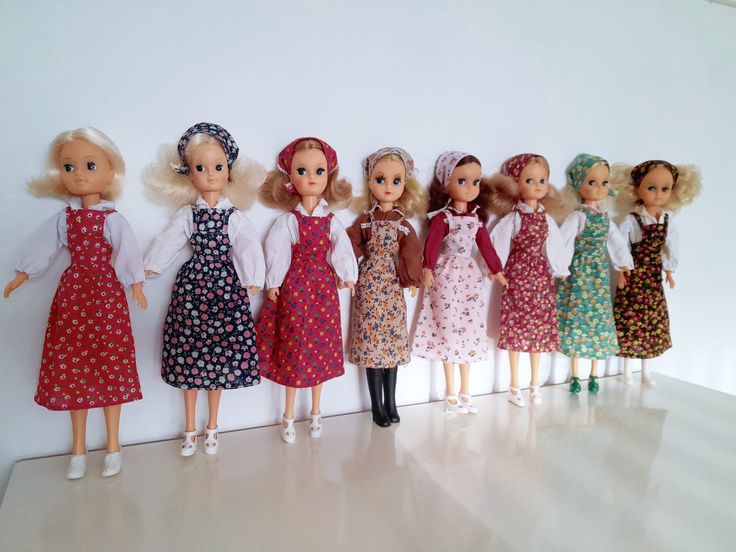 The Standart Basic Fleur doll variants
The beginning of Fleur doll is a bit chaotical... 
Apparently Basic Fleur was released with all known Standart 70s Fleur facemolds (see here an overview about all the 70s Fleur facemolds) . The first one probably had the slimmest face, I call Slim Basic facemold. After that she was released with the wider Second Basic facemold and probably shortly after with the most common facemold, I call the Belle facemold, which is the widest of them all. The molds look very similat to each other... 
All molds had azure blue eyes with stick in lashes that could be long or short and subtle blue eyeshadow. Her brows were thin, her lips small in a peachy orange color. She had typically strong blush.
All these variants had shoulder long, curly hair (later dolls had mostly longer hair)...here pictured are just blondes, but they were available also with brunette hair and strawberry blonde hair.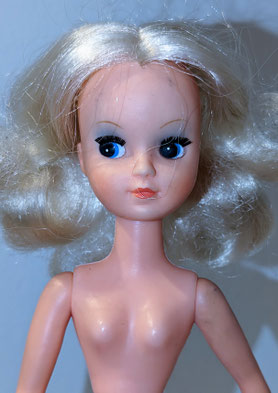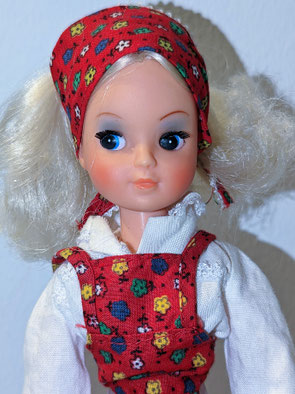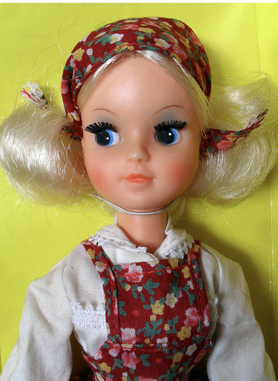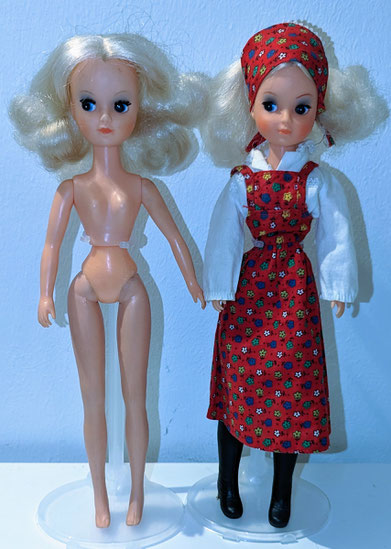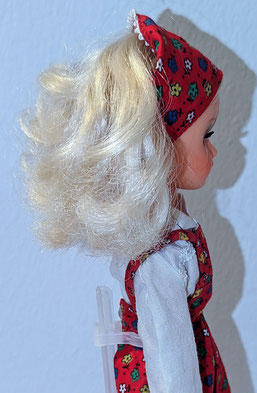 The Standart Basic Fleur doll variants all had the first 70s standart body (see here an overview of all Fleur bodies). 
It has straight hart plastic arms that could not bend with tiny hands. Her torso is made of hart plastic and has a rotating waist. Legs are made of rubber and only the knee can bend.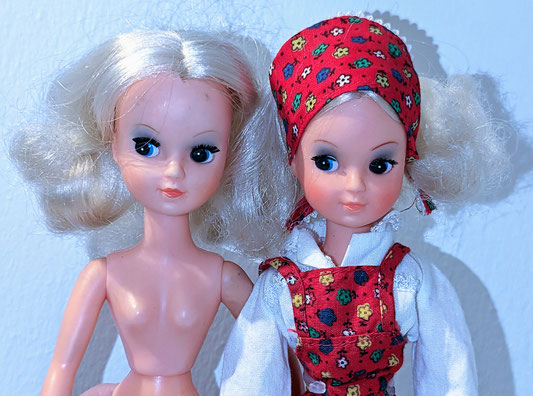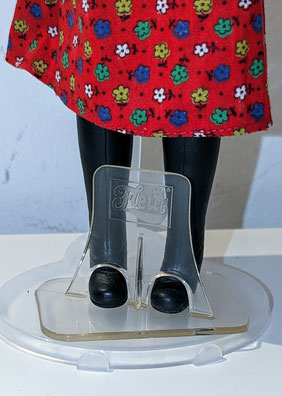 The Squishhead Basic Fleur variants
Some time ago my friend Angela (of vintage_fleurdoll) and I were talking about mysterious Fleur dolls and she showed me this funny looking Fleur doll with a very soft head. We didn't know back than for sure, in which outfit this doll was sold, although Angela already had a theory ... that turned out to be absolutely true. Now we know, that this doll was sold as Basic Fleur in the same simple dark green box as the Standart Basic Fleur doll. One of our Fleur Friends, Barbara de Bruin, bought this doll boxed.
We called these dolls "Squishhead" because their heads can be squished together completely! Their heads are pretty big and round, she has small azure blue eyes with stick in lashes, very thin eyebrows and small, peachy pale lips.
Their hair is very curly and short, the quality of their hair is quite nice.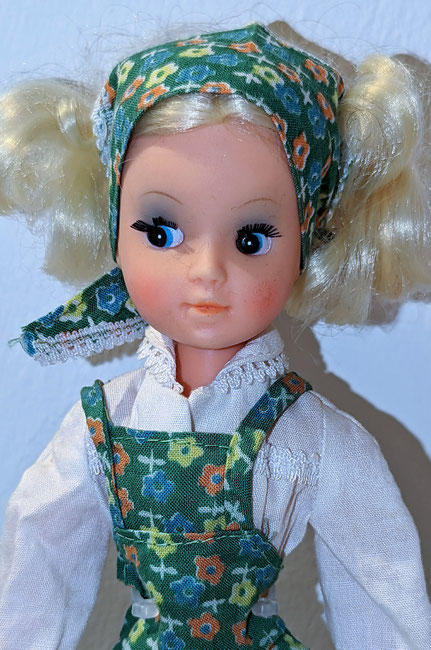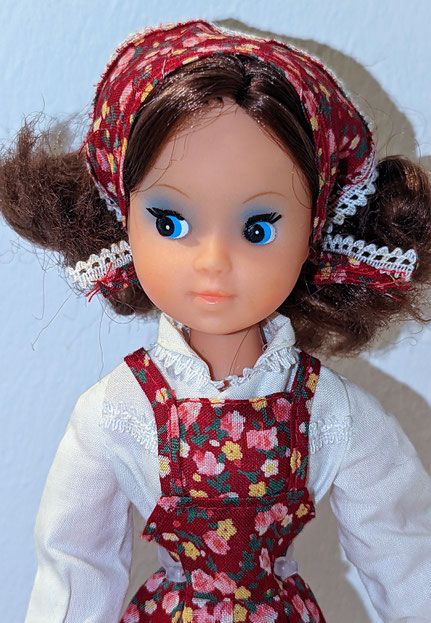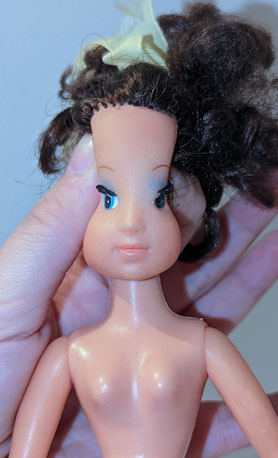 The boxed Squishhead Basic Fleur of Barbara is brunette and is wearing the dark red outfit shown here. We don't know which color the other haircolors were wearing. There is also a blonde version and also a redhead. The difference in the outfit to the Standart Basic Fleur is that this variants didn't wear boots but black flats with a bow (the so called Trendy shoes known by Sindy collectors).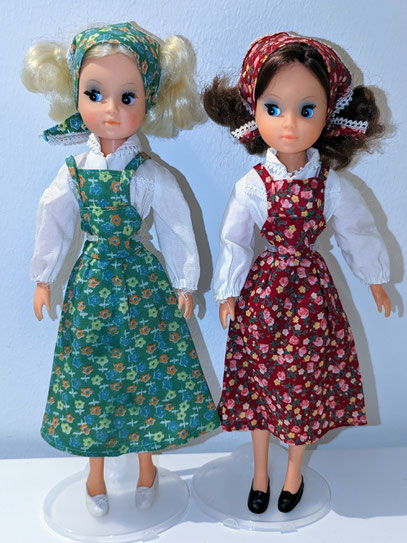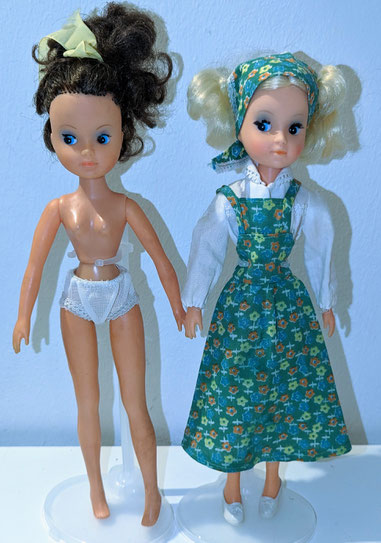 Their bodies are quite different to the standart 70s Fleur body. Her arms are made of soft rubber and are much bigger and longer. Her torso is the same as the standart Fleur body, her legs are made of soft rubber, the knees can bend and the ancles can also bend! Interestingly the body is the exact same body that came also on another Fleur doll: The mysterious Dungaree Fleur! Dungaree Fleur is mysterious for two reasons: It is unknown when exactly she was released and she was sold in the same box as Basic Fleur just with an reprinted red flower at the front and has the exact same cataloque number like Basic Fleur! Please see here a blog post from Fleurdolls.com about Dungaree Fleur (extern link)!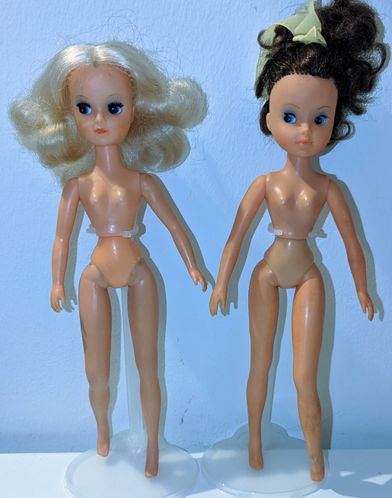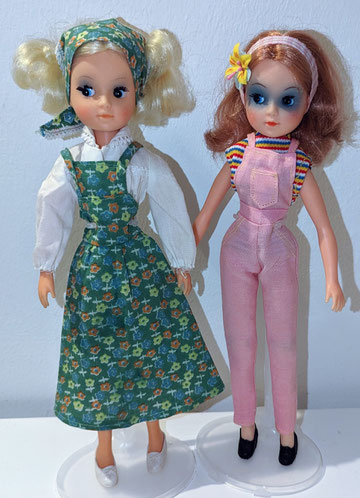 Some new collectors might even confuse the Squishhead Basic Fleur with Dungaree Fleur, because they look quite similar. Besides the same body their facemold is similarf with rather small eyes. However Dungaree Fleur has a hart head, quite strong blue eyeshadow and red lips, not pale lips like Squishhead. The hairquality of Dingaree is also very different, much more coarse and rooted more sparely.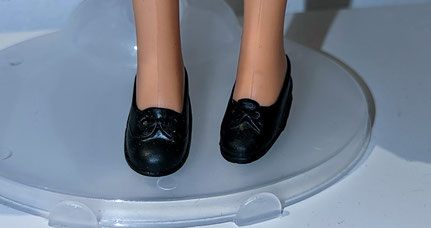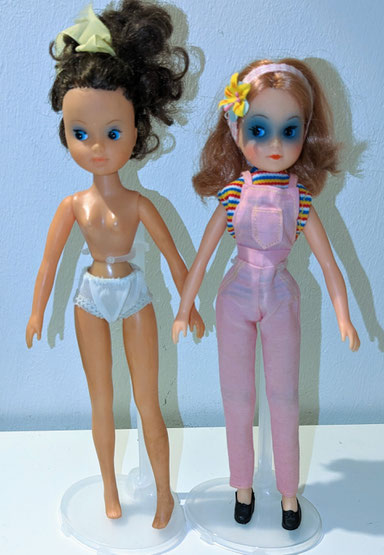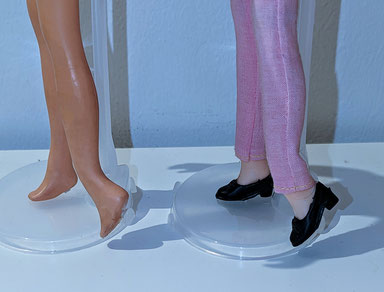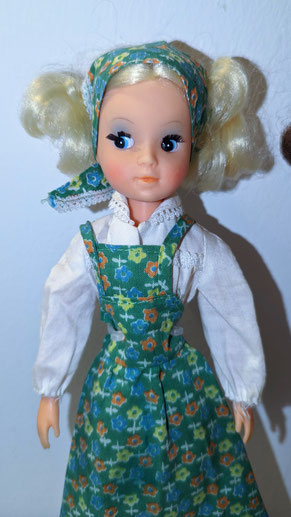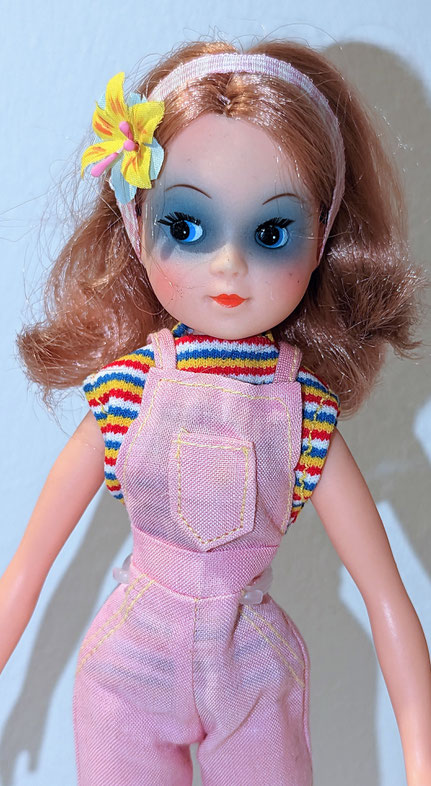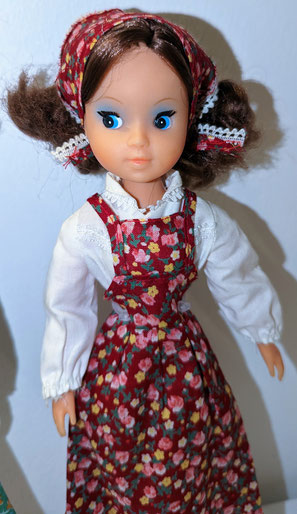 Because these two dolls are so similar, I have my doubts if Dungaree was really released in 1983, like written on the Fleurdolls.com blog. The author suspects this release date, because the only time Dungaree Fleur is featured in any addvertisement was in a cataloque in 1983 as a Promotional Fleur for a half price. 
My personal theory is, that Dungaree was also one of the earlier Fleur dolls, that's why she was also sold in a very similar box like Basic Fleur. That would also explain the similarities with Squishhead Basic Fleur...maybe Dungaree was released directly after Squishhead?  The reason why she was featured in 1983 in that said cataloque could be, that they had plenty of left over dolls left and were trying to get rid of her, hence the reduced price... but that's only a theory.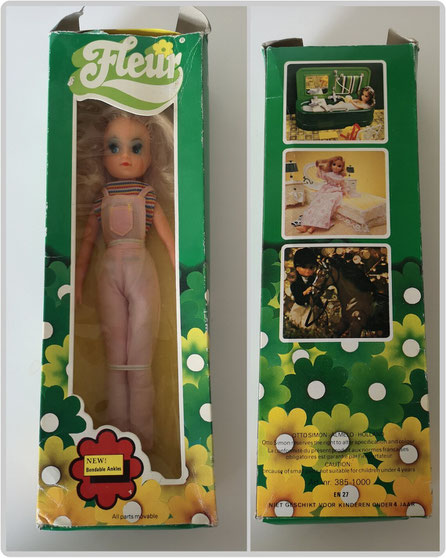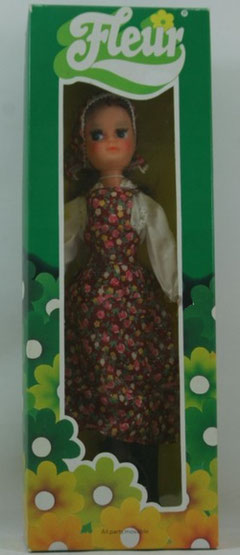 Other Basic Fleur variants?
The following is just speculation... no facts!
Because there were so many variants of Basic Fleur, I asked myself if the mysterious Gauntlet Fleur without lashes couldn't be also one of them! She was also made with three haircolors and is often found together with a Basic outfit, if found in a playlot. Please read here a full article about Gauntlet Fleur to learn more about her!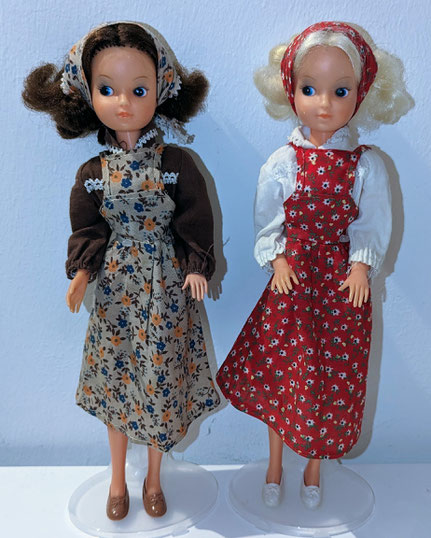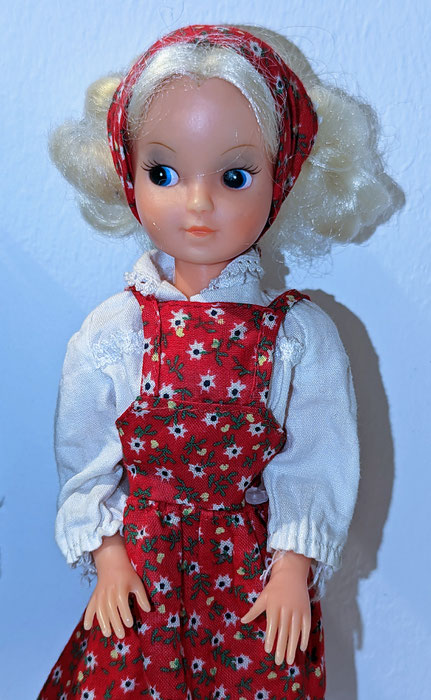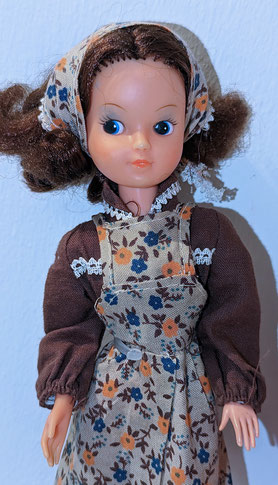 If you own any other Basic Fleur doll variant, please write me a message! Also if you have any boxed Fleur dolls you would like to see in out NRFB/boxed doll Gallery!
---